Trusted by over 4,500 businesses











Reward and recognition is the key to employee engagement
Having a strong reward and recognition culture can have a huge impact on not only how your employees perform, but how engaged they are. This contributes to employee satisfaction levels which can also impact how likely your employees are likely to stay with your business.
66%
of employees believe rewards would increase loyalty¹
60%
of best-in-class organisations stated that employee recognition is extremely valuable in driving individual performance²
63%
of employees who are recognised are very unlikely to look for a new job³
Building a culture of reward and recognition with Perkbox
At Perkbox, we are empowering businesses to reward and recognise their employees for their hard work with our employee experience platform.
Available online and your preferred store.
Recognise incredible work
Recognition from your peers can be just as meaningful as praise from your boss.
Our employee recognition tool gives you and your employees the power to send shout-outs on a company-wide feed.
It's as simple as selecting who you want to recognise and telling them why you appreciate them.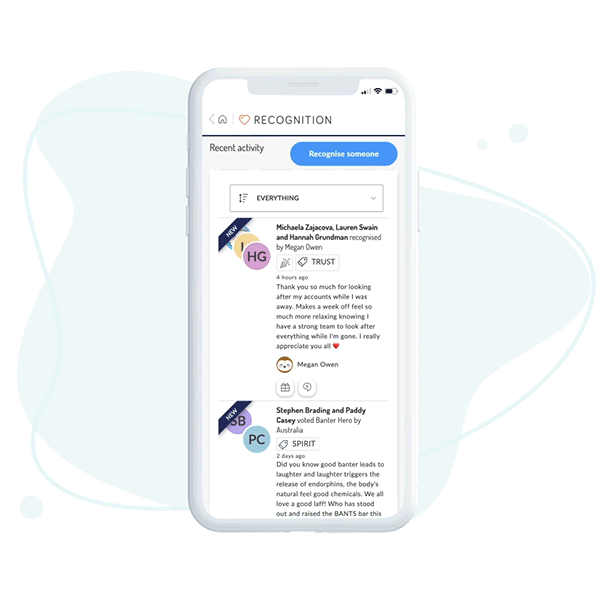 Send rewards with your recognitions
Recognition gives you more than 50 rewards at your fingertips, making it easy to incentivise great work.
Choose from some of the UK's biggest brands from the following categories and give your employees the rewards they actually want:
Food & takeaway

Fashion

Technology

Entertainment

Live your company values
Make sure your team's pulling in the same direction by adding your company values.
You can assign a value to any reward or recognition you send, helping everyone understand how their actions help drive the business forward.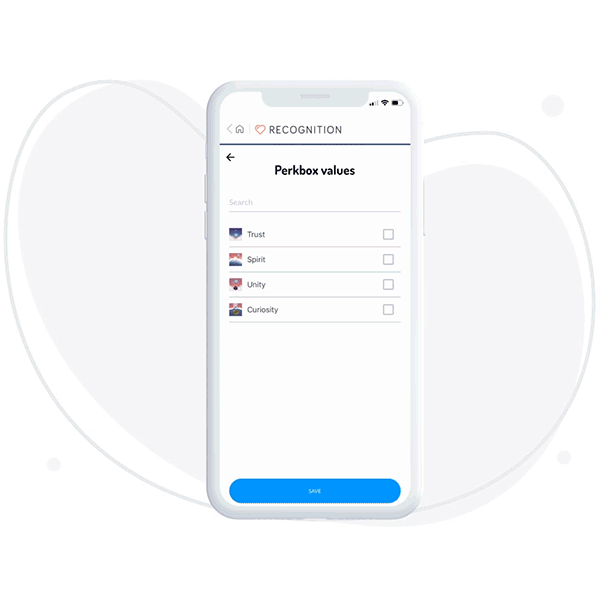 Start a little competition
Polls are a great way for employees to champion their colleagues and give everyone something to work towards.
Anyone can create a poll and the whole team can vote for the winner.
Announce the winners in your team meetings to keep everyone engaged. You can even send a few rewards for an extra motivational boost!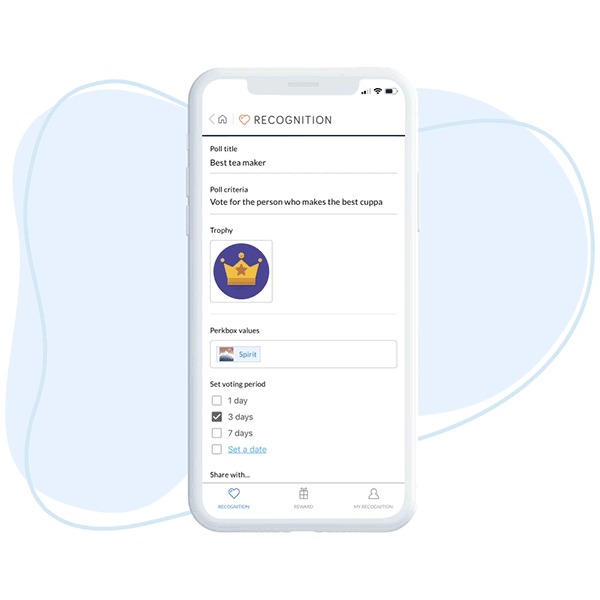 Give your employees access to great perks
Go beyond recognising your employees and keep them feeling rewarded and motivated with some great employee benefits.
Celebrate the birthdays of your employees and treat them to a hamper full of goodies

Free weekly treats

at Caffè Nero or Greggs

Offer a wealth of free workout videos from qualified instructors

Give them access to over 285 discounts from the biggest brands

Getting started is easy
All you have to do is tell us you're interested and we'll sort out the rest.