The Perkbox guide to a DIY recognition program
Our mission statement is to enable organisations to align their people with their purpose.

We understand that it may not be possible for you to join the Perkbox family right now, but we'd still like to give you all our best tips and tricks to create an incredible recognition program and help you build a culture of recognition. 
Before you start
Recognition programs that are tied back to a company's values are capable of improving your employee experience (EX) by up to 50%.
Furthermore, 83% of employees that say they are regularly recognised for their contributions at work report having a high EX.
High EX is directly linked to having stronger, more profitable businesses, so having a well built recognition program should be a high priority.
Step 1: Company values
First thing's first, make sure all of your employees know your company values! If they're just posters on the wall, they're not doing their job. You may take this as an opportunity to review or refresh your values too.
Inform your employees that all recognition going forward will be tied to your company values, and have managers and above lead by example.
Try this: give your managers a few phrases that'll help them get comfortable with tying recognition back to company values without being too awkward
"By doing ABC, you've really driven the company/project forward and highlighted our value of XYZ"

"My favourite company value is XYZ and you've really demonstrated it by doing ABC!"
Step 2: Set the workload
How big is your recognition program going to be? Are you going to use a point system, or use rewards? Who will be allowed to dish out rewards, and what is the quality of work that will be worthy of one? Will those rewards be cash or physical? How will they be handed out?
It can get very big and overwhelming very quickly, especially once you realise you need to keep track of finance and stock management as soon as points and rewards are involved!
You will need to set your recognition on a few levels;
Peer to peer

Manager to employee

Employee or manager to team

Team to employee or manager
You can use a third-party survey tool to run polls to cover number 4, so that teams can nominate and vote for a single individual.
Tip: Just announcing a winner doesn't capture the full value of a poll - make sure you have an open text field for giving a reason as to why an employee received a vote and send these submissions to the team members who received a vote.
Step 3: Tracking and reporting
You need to see if your recognition program is effective, so ensure you put in some measures that you can track. This could include how many recognitions are being sent and received, who stands out as a top performer, and why people are recognising each other.
Don't forget to loop your finance in for any rewards given out!
Tip: Without measuring your recognition program, how will you know if it's working? Set up a spreadsheet tracking the weekly activities, including senders, receivers, and why the recognition was sent.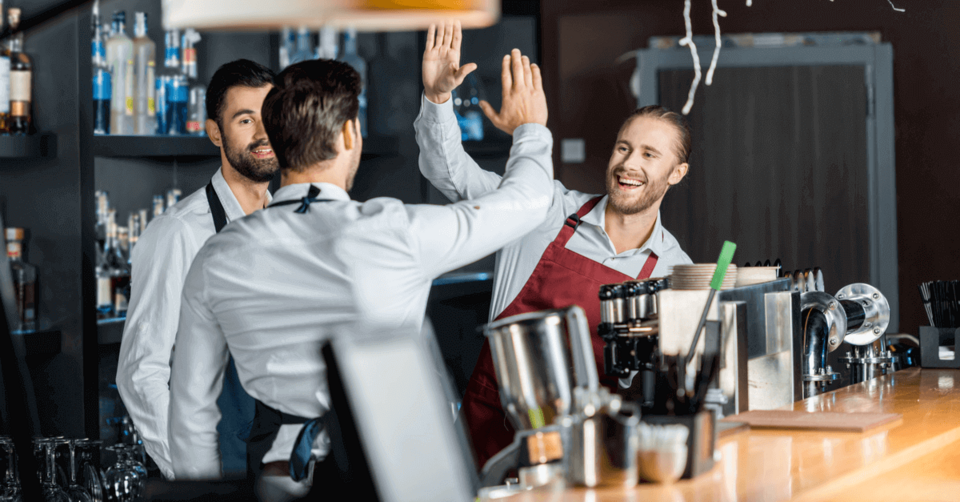 Things to watch out for
As you roll out your recognition program, keep an eye out for bad habits developing. Something that's easy to fix if caught early can snowball into something that's much harder to turn around if left unchecked.
Recognition becoming 'exclusive'
Recognition programs can go awry in a few ways, and becoming exclusive is one of the most common. If your recognition program centres on performance, then you're going to have the same top performers being recognised over and over again.
Make sure you're switching up your themes and reasons for giving recognition to give everyone a fair chance to be recognised for their contributions, whatever they may be.
Another way recognition could become exclusive is if people take up the habit of recognising, but only do it in private.
Incentivising the wrong behaviour
If you're not careful, you might end up introducing some toxicity into your culture without realising. This could be things like recognising and applauding inappropriate behaviours, or behaviours that have made another employee uncomfortable.
Not linking back to your company values
It can be easy to let this slip by you. You might see your employees recognising each other without mentioning a company value and think 'at least they're recognising each other!' But in order to gain the value of having a recognition program, you need the company values element to be there.
Don't forget, closely associating your values with your recognition program can have a 50% increase on your employee experience score! You do not want to miss out on that!
Giving everyone the same reward
There's nothing worse than opening a gift and feeling obligated to force a smile and say thanks. Inauthentic and impersonal rewards are exactly the same. Bulk buying some company branded water bottles and pulling one out of a cupboard to give to an employee isn't going to make anyone feel rewarded.
Ensure that you're varying your rewards between big ones and small ones, monetary and non-monetary, and deciding on the reward based on the employee and their contribution.
Stitching together too many third party players
The bigger and more complicated you make your recognition program, the more likely you are to give up or not give it the attention it requires.
Check out all the tools you'd need to use in order to get the full functionality of Perkbox Recognition;