Live your best life with perks and benefits you want
Employee benefits should go beyond a free drink or fruit bowl.
What's more, we believe you should get to choose perks that suit your lifestyle. If your company's looking to improve employee wellbeing, we can help.
Shop and save all year round
Access a range of deals and discounts at the biggest brands.
If your company signs up for Perkbox, you'll save money all year round, on everything from the supermarket shop to days out. They can also gift you points every month to spend on perks that you want. There really is something for everyone!
Food and drink, from takeaways to supermarkets to wine offers
Tech and electronics, such as mobile phones and computers
Home and garden, from DIY to home appliances
Wellbeing, such as gym memberships and personal care
Entertainment, from cinema tickets to books to streaming subscriptions

Feel happier and healthier
Get the physical and mental wellbeing support you need. The Perkbox platform helps you be your best self, with a variety of tools, discounts and content.
Free access to online gym classes and workout videos
Free mental wellbeing resources, from talking therapies to sleep stories to meditation guides
Healthy savings on fitness gear, supplements and gym memberships
Discounted sleep and wellbeing apps

Shine a spotlight on your colleagues
Recognise and celebrate your teammates, whether they're across the desk or across the world!
Use our platform to easily send a shout out to someone
See who else is being recognised on the celebration feed
Find some work inspiration, start a healthy competition, or just have some fun by starting a custom poll
Receive points that you can spend on our huge catalogue of rewards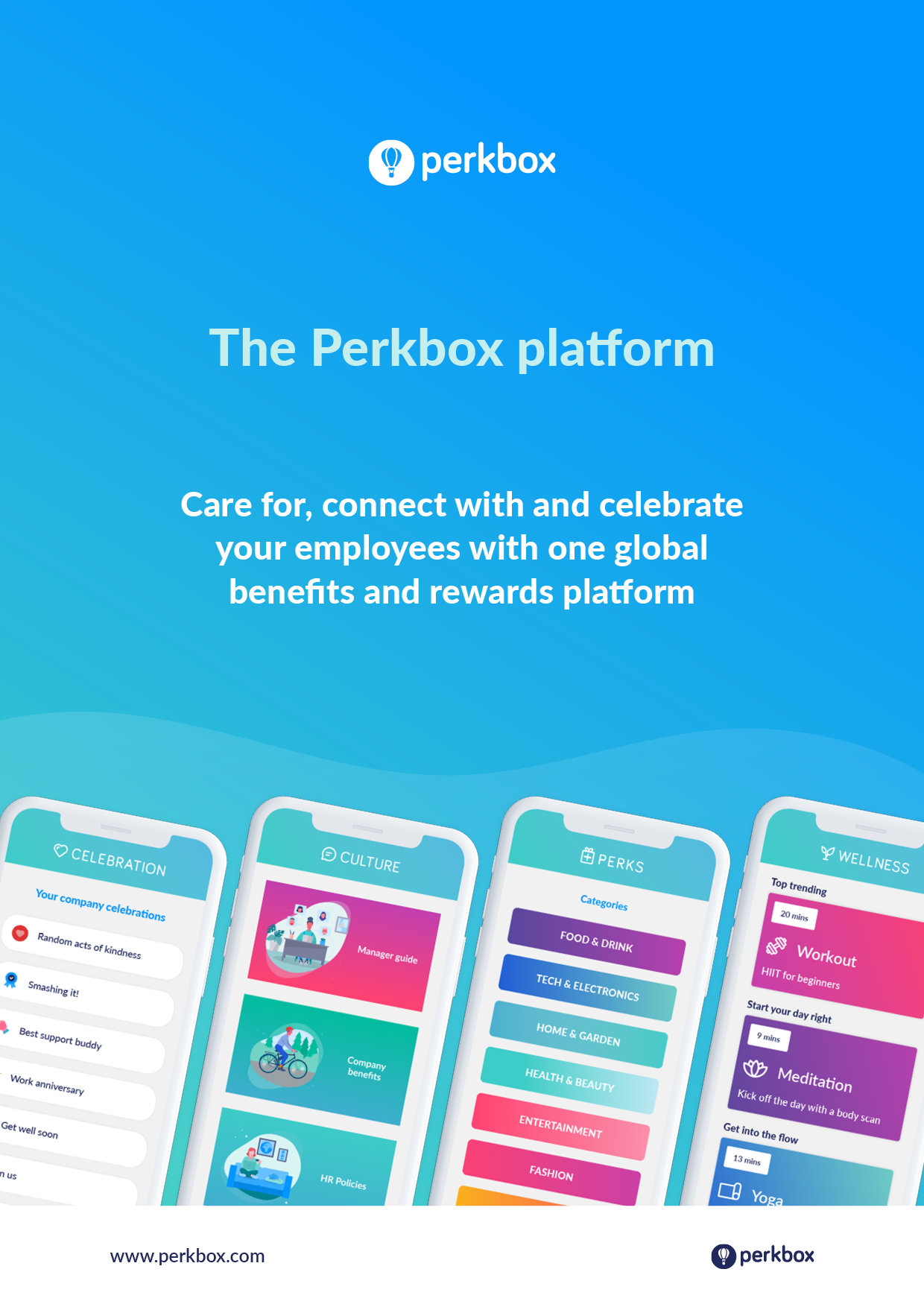 Featured brochure
Get an overview of the platform
Learn how you can care for, connect with and celebrate your employees with one global benefits and rewards platform.
We help all areas of your business
Explore Perkbox
Learn how you can care for, connect with and celebrate your employees across the globe with: