One central, easy-to-use platform to serve you better
With our enhanced admin features, both you and your employees get an even better experience when using the Perkbox platform.
Make access to the platform easy with Single Sign-On (SSO)
Simplify your data upload
Easily manage user onboarding and offboarding with our Human Resources Information Systems (HRIS) integrations
Customise branding and benefits to suit your business set up
See what matters with comprehensive usage reporting

What's included with Perkbox
Single Sign-On (SSO)
Provide a seamless login experience
Integrate with your SSO provider for a simple, hassle-free login experience for company domain users that makes access easy for your employees.
Perkbox SSO works with:
Okta
Google Workspace
Microsoft Azure
JumpCloud
VM Ware
OpenID
OneLogin + more!

Customisation
Customise Perkbox to align with your brand
Customise branding and benefits to suit your business set up.
Set up logo and brand colours per team and per region or for the entire company, providing your employees with a bespoke experience
Set up regions your teams are located in, so they see what's relevant to them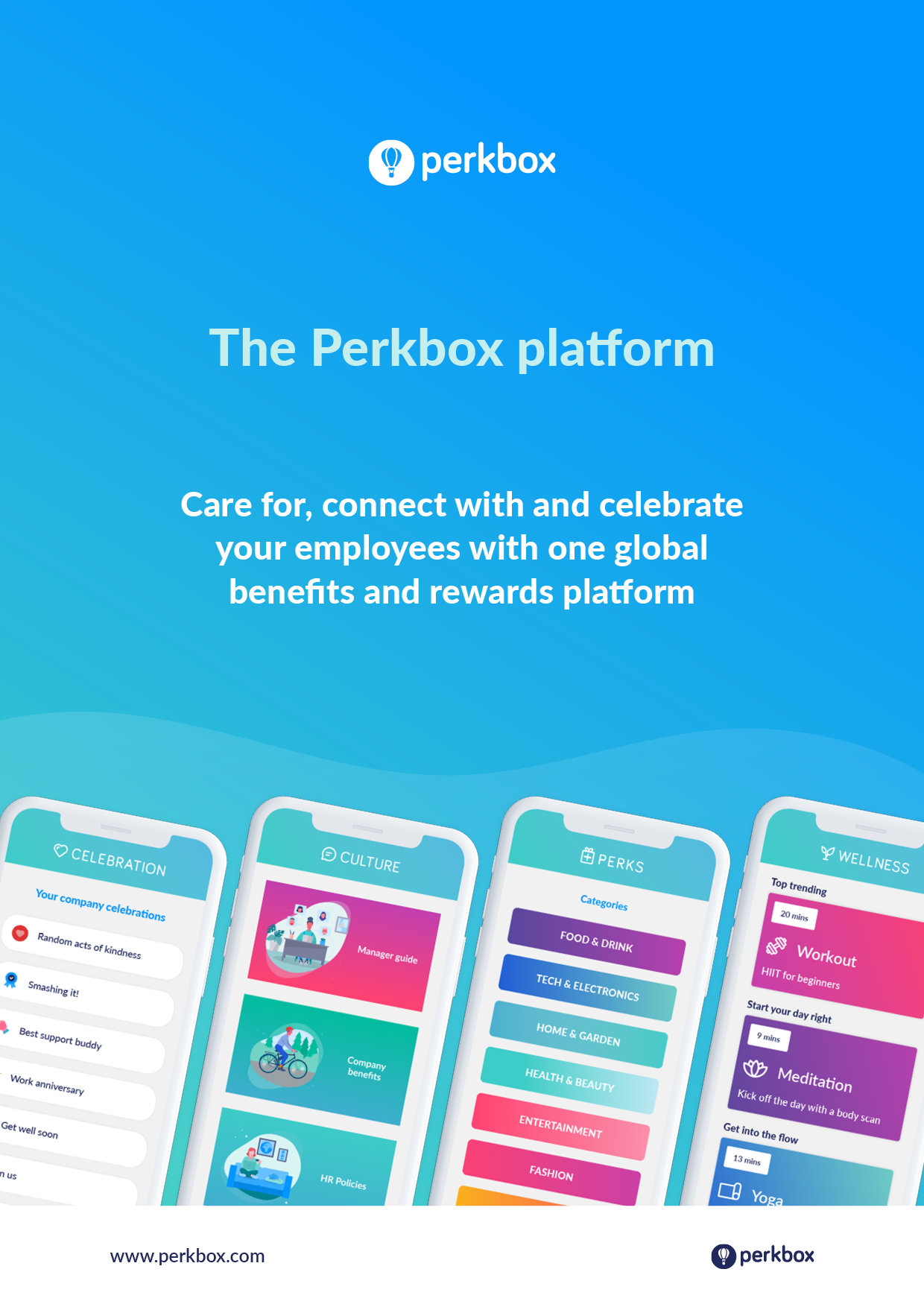 Featured brochure
Get an overview of the platform
Learn how you can care for, connect with and celebrate your employees with one global rewards and benefits platform.
HRIS integration and directory syncing
Seamlessly manage leavers and joiners
Save time and resources as Perkbox integrates directly with the following HRIS:
Workday
HiBob
BambooHR

Microsoft Azure

Okta
Google Workspace
Fourth
Rippling + more!
Our directory syncing allows you to automatically create users, deactivate users, create teams and add or remove users from teams – making onboarding and offboarding simpler and faster.

Reporting
Get insights through in-depth reporting
See what matters with comprehensive usage reporting. Divide your users into teams to see usage across our features.
Get in-depth reports of the platform usage, from a top view of the situation to more granular insight across teams and regions so you can:
Stay on top of your numbers through usage and activation reports
Get the latest trends and see the impact of your people initiatives through enhanced reporting
Compare performance against other businesses with our benchmarking tool
Make Perkbox your own through personalisation prompts

Simple data uploads
Manage team data in a way you know how
Upload your team data or mass upload using CSV files, saving you time when adding data from various teams or regions.
Drag and drop CSV files
Easy field matching

Explore Perkbox
Celebrate and appreciate your employees with:
Sign-up to our mailing list
Subscribe to our mailing list, and we'll deliver you the latest insights and resources.