Moving on up: The Sheffield office gets an upgrade
Establishing Perkbox's first Sheffield office was a passion project for our company – not least for Customer Success Director Jack. He oversaw every detail, from interviewing prospective employees, to painting the office walls (he actually did these things simultaneously).
The office opened on Scotland Street in January 2017. Our Northern counterparts started as a team of 10, which soon grew into an army of 55. They moved to perky new premises in May, which I figured would be a heart-wrenching experience for all involved.
After speaking to some of the team, I'm not sure it was.
Humble beginnings
Sheffield Office Manager Joe told me he wouldn't miss the not-so social area. When he first started, half the office was free for gaming and relaxing in, but as the company rapidly grew, this space shrank to a single sofa parked in front of the TV.
Also, there was no air con. The office literally had no chill.
'Because we had so many people, the office used to get really hot – like nearly 30 degrees,' Joe says. 'So I loaded up the beer trolley with ice pops, added a battery-powered disco ball and played ice cream van chimes on my portable speaker.'
He did meet his girlfriend while working there, however, so every cloud and all that.
The move
Joe and Operations Manager Wayne organised a seamless move – from the lighting and air con(!), to the carpets and the networking. They were assisted by 21 volunteering Perkboxers (plus some pint-sized VIPs) who really went above and beyond.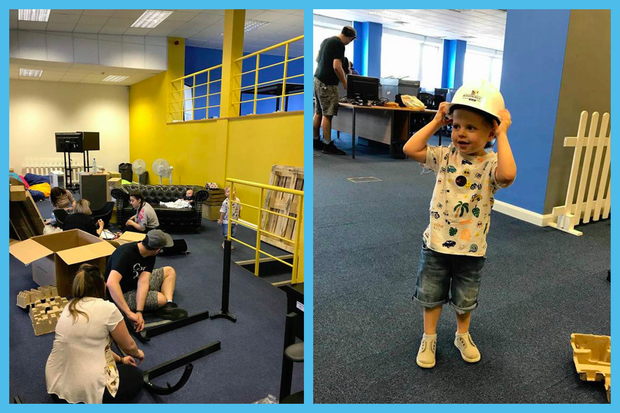 The design
Perkbox has a distinctively fresh and fun look. It was up to Engagement Manager Maddie to bring this vibe to the new Savile Street office.
Bright colours were a must, especially the correct shade Perkbox blue – Hex colour code #00ADEE, in case you want it for your home – as were quirky-but-practical touches like picnic benches. But the Perkbox culture goes deeper than our choice of furnishings.
'It's not just about beanbags and unicorns,' Maddie says, 'it's about the team going there on a Saturday and painting their own walls. People actually want to participate. This is what makes it Perkbox!'
All the mod cons (not just air con!)
Spread across a ground floor, an office floor and a mezzanine floor, the Sheffield team now enjoy a bigger kitchen, more meeting rooms and ample break out space.
Customer Happiness Executive Samantha loves the place. In fact, the only downside is that there might be a bit too much room: 'Before, wherever you were in the old office, you could shout at someone and ask a question. Now, we're a lot more spread out from our friends.'
But this nostalgia was short-lived. 'When we finished moving in,' she tells me, 'we were like, "how did we ever fit in the previous one?". We've filled the length of this office already.'
Understandably, Joe's favourite new amenity is 'decent fridge space for beer'. Judging by these snaps he sent me from the office opening party, it looks like they're putting it to good use…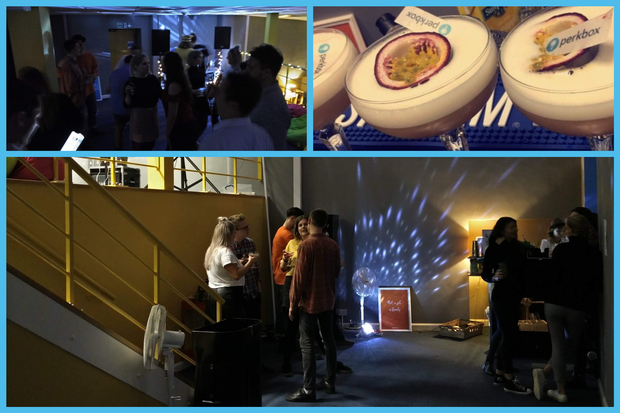 ...and they all lived happily ever after!