Perkbox Live: How to avoid burnout at work
On Thursday 21st June, we held our most ambitious Perkbox Live event yet – 'The fine line between high performance and burnout'.
Like many of the shindigs masterminded by Events & Employee Engagement Manager Maddie, this one explored the ways HR professionals can take better care of their teams. The evening featured three speakers from very different backgrounds.
I don't work in HR, and I wouldn't say it's a hobby of mine on the side. But like countless other employees, I've certainly 'burned out' as a result of overworking.
My favourite thing about this event was that it made the world of HR feel so accessible and easy to understand. I went in knowing nothing about it, and left with some pearls of wisdom I'd like to share with you.
Pearl #1
From Karin Volo
Chief Joy Bringer & CEO at Evoloshen and co-author of international best-selling book Engage
Change the question
Karin has a story like no other. After divorcing her con man husband, she rebuilt her life – only to be wrongfully imprisoned for his crimes six years later.
Separated from her children and partner for almost four years, Karin found a unique way to stay positive. She stopped asking 'Why is this happening to me?' and instead asked, 'Why is this happening for me?'.
By changing the question, Karin started to think about how she could use this experience to help others. And she found it by working with organisations to help improve their cultures, and keep their staff feeling happy and engaged. She has since co-written two books and tours the world as an inspirational speaker.
Pearl #2
From Alex Patten
Head of People at Wiser
Plumbers are the

happiest workers in Britain
This only seemed to come as a surprise to me, but then I imagine the HR professionals all read the same surveys. Plumbers tend to enjoy a good quality of life, thanks to flexible working hours and plenty of physical activity.
The major takeaway from this isn't that we should all necessarily become plumbers (obviously you shouldn't let that stop you), but rather that companies should do more to bring these qualities to their own working environments.
That could mean offering staff more work-from-home days, discounted gym memberships, and so on and so forth.
Pearl #3
From Tara Mansfield
Head of People at Monzo Bank
Don't attend a meeting

if you don't need to
A simple but important bit of advice. Your time is valuable, so when you're asked to come along to a meeting, don't feel obligated to say yes. Take a moment, think about what you need to do for yourself, and then confirm.
Pro tip: as soon as you lock in a meeting, why not block out a 15-minute slot afterwards? This will give you time to decompress, and ensure you won't have to go through intense meetings back-to-back.
On an unrelated note, Tara's colleague from Monzo brought a really cute dog who has his very own Instagram page.
Pearl #4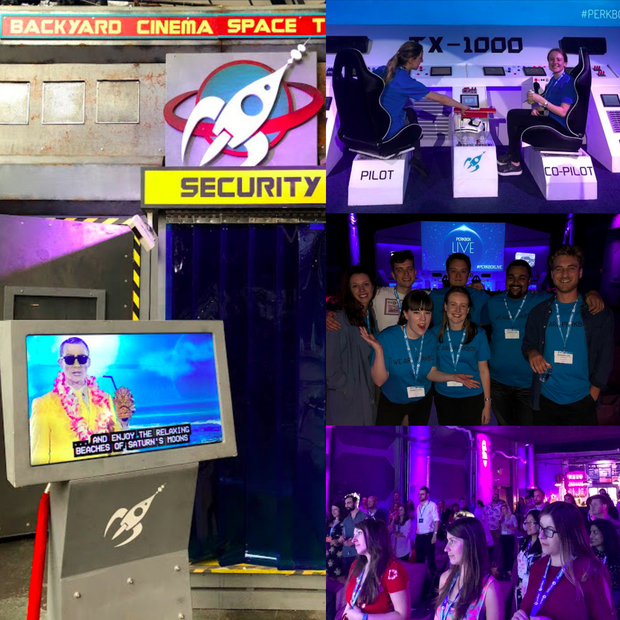 Backyard Cinema is wild
This Perkbox Live took place in Backyard Cinema's spaceship-themed auditorium. This wasn't a half-hearted concept. Guests were even led through airlock chambers and underwent a galaxy-traversing experience before they could get on board!