Puppy love: How to create a dog-friendly office
Here at Perkbox, we make no secret about being dog lovers. Our Chief Happiness Officer just so happens to a big floof-monster named Dexter. But then you probably knew that, since he's all over our marketing material like... well, a mud-slicked dog on clean white furniture.
That's why we're so happy to be partnering with London Dog Week for their inaugural year! From 24th–31st March, we'll be celebrating the countless benefits of welcoming dogs to your workplace. Want to join the pack and get involved? Click here to check out the full events schedule for the week.
Why be dog-friendly?
For the most part, dogs are uniquely non-judgemental creatures. You can always feel comfortable around them. It doesn't matter if you're in a grumpy mood, or you forgot to put on deodorant that morning – a dog will show you unconditional love regardless.
This level of emotional support is especially important in a professional environment. When employees are faced with a tight schedule of meetings, deadlines and targets, anything that can help reduce stress levels at work is a valuable asset.
Dogs are also highly skilled at breaking down social barriers. Communication is key to creating a healthy company culture – and dogs possess the almost supernatural ability to spark conversation between people who otherwise may not have a lot in common.
If you want to provide more opportunities for team bonding within your workplace, a dog-friendly office policy is a cost-free solution. After all, in terms of social lubricant, it's a toss-up between dogs and alcohol…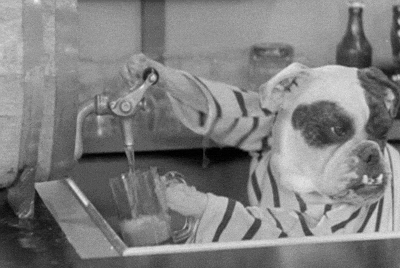 Our office policy
Having dogs around the office can really enrich the employee experience – but with great cuteness comes great responsibility! Before letting the dogs out, HR Managers need to be aware that not everybody is necessarily a dog person…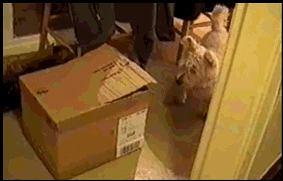 It was important for Perkbox to agree on an office dog policy that prioritises the safety and comfort of our staff. Naturally, it starts with the recruitment process, during which we give candidates an idea of the type of environment they'll be working in.
HR Manager Louise sends a video of Dexter to prospective Perkboxers, presumably to demonstrate how big he is. Thankfully, I'm told no one has turned down their job offer after seeing him in action.
During the day, each dog stays at their owner's desk, so they can't run amok.
'The dogs don't wander around and bother people,' Louise tells me. 'They just chill and sleep. Unless someone wants to pet them or take them for walks.'
Our Chief Happiness Officer

You may recognise this guy. After joining our London office in early 2016, Dexter quickly became our first ever Chief Happiness Officer. Working alongside his human Senior Corporate Account Manager Sam, he takes his role very seriously.
Dexter is part cockapoo, part a standard poodle, part 8th wonder of the world. He's the perfect Perkbox mascot because he represents our company values – he loves his job, he cheers up his colleagues with a wag of his tail, and he knows how to party.
But how did Dexter land this unprecedented job title? Like every great origin story, it all began after a few drinks.
'I was chatting in the pub with [Chief Marketing Officer] Chieu and [Chief Operations Officer] Gautam,' Sam tells me. 'and I said "We should give Dexter a title – let's make him Chief Happiness Officer!" and it just kind of stuck.'
Meet our dogs
Human: Damir
Breed: French Bulldog
Joined Perkbox: Monday 11th December 2018 (he has pretty much grown up at Perkbox!)
Does Ozzy enjoy it here?
He genuinely does. He gets excited as he gets close to the office every morning, and everyone has always made a fuss over him.
Any advice for dog owners?
Whilst commuting or in the pub, an extraordinary amount of people will pester you about your dog. It's a bit like being a minder for your own pocket-sized celebrity.
Human: Wayne
Breed: Shih Tzu Terrier
Joined Perkbox: March 2017
How does Pippa pull her weight in the office?
I actually say in interviews that Pippa's part of the selection process. She'll come in, have a sniff, and give her opinion. She's got good taste.
Any advice for dog owners?
Toilet train them as best you can before you bring them in. When you're trying to reward certain behaviours with treats, and other people are giving them treats for no real reason, it can mess up the training!
Human: Emily
Breed: Reggie is a Miniature F1 Goldendoodle – meaning his mum was a Golden Retriever, and his dad was a Miniature Poodle
Joined Perkbox: October 2018
Why did you start bringing Reggie to the office?
The fact that we have an dog-friendly policy is amazing. It gives you comfort in that he wouldn't need to be left at home all day, or sent to daycare every day. The costs would add up!
Any advice for dog owners?
Bringing in such a young puppy to the office, you do need to be prepared. I've got a pen for Reggie which goes by my desk and keeps him contained during the day. Puppies can get bored easily, so I've got lots of toys to keep him occupied.
Human: Bradley
Breed: French Bulldog
Joined Perkbox: November 2018
Do you think Daisy enjoys it here?
Yes, she loves walking from the station to the office, and gets on with all the employees and the other dogs.
Any advice for dog owners?
Make sure you can bring the dog in for an hour or so before you actually start bringing it in full time. That way, the dog knows its surroundings beforehand.
To find out more about London Dog Week and the exciting events they'll be running, visit londondogweek.com, or contact info@londondogweek.com
Happy London Dog Week!