What makes a great employee experience?
To create a positive employee experience, it's important to consider the entire employee journey, as people's motivations change over time.
For example, long-term employees may appreciate flexible working options and a competitive discounts and benefits package. Whereas new joiners may value mentorship and career development opportunities.
Listening to your employees and understanding want they want, wherever they are in their journey is an essential component of a good employee experience. Tools, such as polls and surveys are useful methods of collecting feedback and learning more about your colleagues.
Additionally, introducing an employee experience platform that holds all your benefits, discounts, and wellbeing resources in one place can provide data and insight on what features your employees use the most and help generate new ideas for improving employee experience.
Why choose Perkbox to enhance your employee experience?

Celebrate your teams with our app
Employees receive over 100,000 recognitions a year

See great engagement results
We work with over 4,500 businesses and have a 4.3 rating on Trustpilot

Your teams will love our perks
Our Perkbox users treat themselves to over 2 million perks a year
Inspire your employees with great work perks and benefits
Having the right work perks and benefits can have a huge impact on the talent you attract to your business. It can also impact how you engage and retain employees.
75%
of employees say they're more likely to stay in their jobs because of their employee benefits package¹
69%
of employees say a better benefits package would make them choose one company over another¹
60%
of people report that benefits and perks are a major factor in considering whether to accept a job offer²
An employee experience platform that supports the entire employee journey
When your people begin their employee journeys with you, company culture will play a big role in their first impressions of your business.
So it's crucial your organisation supports them on their first day and in the years to come.
Using an employee experience platform that links with your HR directory, makes the onboarding processes easier and also reduces administration workload. Leaving you more time to focus on building meaningful relationships with your employees.
Wherever your employees are in their journey, we can help:
Highlight work anniversaries, share social photos, and celebrate company milestones with your entire workforce in our easy-to-use app.
Create a greater sense of togetherness with custom or templated cards that communicate key values or important updates on HR policies
Make important comms accessible at any time from anywhere, and keep them secure with our Single Sign-On (SSO) technology

Benefits and rewards to support employee experience
Recognition and reward are significant promoters of employee engagement and contribute to greater job satisfaction and a better employee experience.
It doesn't matter if your people are business leaders, line managers, or employees, shining a spotlight on their achievements demonstrates they are an integral part of your company and play an important role in its success.
Most effective employee experience platforms tend to contain features that enable your teams to recognise each other no matter where they are, be it in the office, working from home, or on the go.
We can get all of your employees celebrating great work with:
Rewards catalogue – reward your team with points that gives them the flexibility to choose the reward from our catalogue they want, when they want
Personalised polls – vote on the best team player or someone who has gone above and beyond in a project
Company values – link your values to each recognition, so everyone understands what actions contribute to your business goals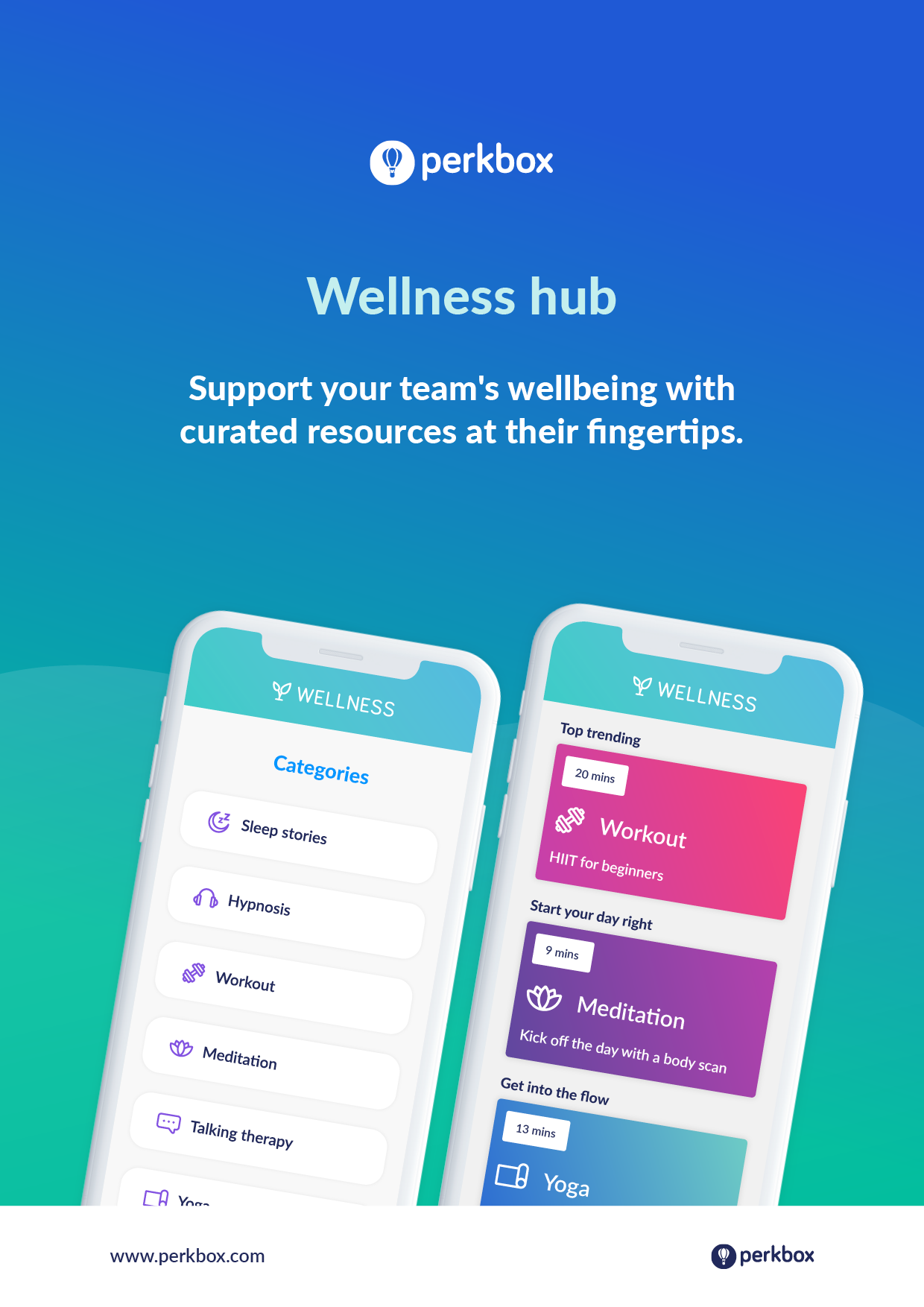 Featured brochure
Get an overview of Wellness hub
Learn how you can support your team's wellbeing with curated resources at their fingertips.
Enhance your employees' experience with a meaningful perks and discount scheme
Introducing a well-rounded perks and discounts scheme is a catalyst for a great employee experience and attracts top-class talent.3
Saving your employees money on everyday purchases will encourage them to do more of the things they love, such as going to the cinema and dining out at their favourite restaurant. Additionally, the better work-life balance your people have the more engaged and productive they will be.
We not only want to make their paychecks go further on the essentials, but also on days out and other experiences. With Perkbox your employees get:
Over 4,000 perks and discounts with some of the biggest UK retailers, restaurant chains, and resorts worldwide
Flexi points, which they save or spend right away on Flexi Perks at no cost to them
Flexi Perks, from coffee catch-ups to meal deal meet-ups, the more Flexi points they have the bigger the Flexi Perks they can enjoy together

Give your team the best employee experience by taking care of their health
When companies prioritise their team's mental and physical health, they are laying the foundations of a sustainable work environment that has a positive impact on employee experience.2
In fact, a robust wellbeing strategy doesn't just reduce absenteeism, it also boosts team morale and increases employee productivity.
Taking care of your employees' health and wellbeing requires a holistic approach. So your employee experience platform must be comprehensive and include plenty of easily accessible services and resources.
Our easy-to-use platform not only has a 24/7 confidential helpline, but also a Wellness hub, which includes:
An ever-expanding collection of content including workout videos, yoga classes, guided meditations, and more
A completely ad free experience so your teams can enjoy a lengthy yoga class without interruptions
Easily accessible resources that are available at any time through a laptop, smartphone, or tablet

Employee Experience Platform FAQs
What is an employee experience platform?
An employee experience platform is a type of software that helps you build a team of highly engaged employees.
These platforms act as a centralised system where your employees can access all of their benefits, in addition to a selection of other resources, which may include important company comms, wellbeing content, and perks.
HR leaders use employee experience platforms to build a strong company culture, which boosts employee morale and wellbeing. Introducing bespoke employee experiences such as rewards and perks, not only makes employees happier but also helps stretch their salaries further, so they can spend more money on the things they enjoy.
When looking for an employee engagement platform it's important that it seamlessly integrates with your current HR systems. With Perkbox you get access to enhanced admin features, which include Human Resources Information Systems (HRIS) integrations so you easily onboard and offboard employees.