Employee retention: Here's why you might be losing your best employees (+ solutions)
As a business leader, the thought of your best employees leaving will fill you with fear.
Even more so when you realise that if all of a company's top performers were to quit, it's going to be hard for that organisation to survive.

This means that retaining valuable employees needs to be a top business priority. As January marks the busiest month of the year for job searches, now is the time to ask yourself – is your current retention strategy doing enough to keep your employees from trawling the job boards?

If you want your employees to make a long term commitment to your organisation, you need to give them good reasons to stay. They need to feel that they can't get better rewards, recognition or workplace culture elsewhere. Employees also want to know they'll be able to fulfil career goals and develop new skills within the business, with support from their managers and colleagues.
Why is employee retention so important?
Imagine one of your top employees resigns out of the blue. You now have to try and find a replacement for your talented team member in a competitive recruitment market, whilst also trying to help the rest of the team with any loss of resource. It's a lot to take on on top of your day-to-day responsibilities, isn't it?

Today, skilled employees are in high demand. While you're careful to hire the best people, once you have them, you need to shape your company in a way that won't let them go.

Not only is it expensive, time consuming and resource intensive to replace employees, losing them significantly lowers the knowledge base in your company. You'll then need to increase training, which, in turn, brings its own costs.

If that wasn't enough reason to implement an employee retention strategy, bear in mind that whenever someone leaves your company, your workforce will immediately want to know why. This decreases team morale and some might even start to wonder, "should I start looking for a new job too?"
What are the signs an employee might be thinking about leaving your company?
As a workplace leader, the factors behind poor employee retention can be found by assessing your employee experience. Here you'll find anything that might be lowering your employee's satisfaction at work and affecting your company's ability to retain employees.
The main reasons people leave a job include:
Poor salary and benefits.
Financial insecurity.
A lack of training and development opportunities.
Absence of a career path.
Dissatisfaction with management.
Not getting along with colleagues.
Lack of work/life balance.
Low team morale.
Lack of satisfaction and commitment to the organisation.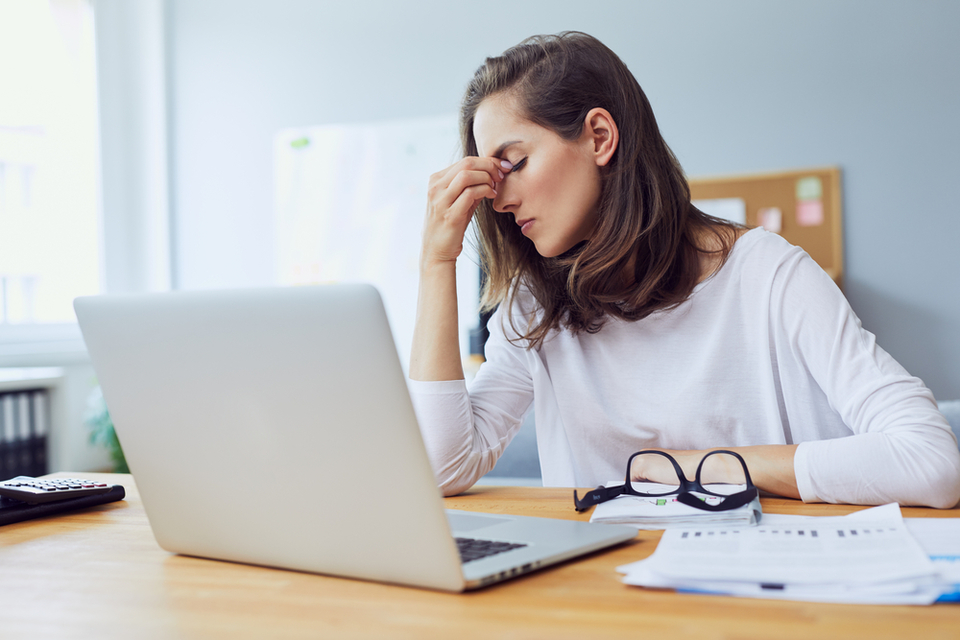 When the employee experience is lacking in any of these areas, there are also telltale signs which show employees might be thinking about jumping ship:
Work productivity has decreased.
A negative change in attitude.
Less focus on job-related matters than normal.
Expressing dissatisfaction with their job more frequently than usual.
Leaving early from work or arriving late more frequently than usual.
On top of these factors, we conducted a study of 2,000 UK employees to find the biggest workplace frustrations that fuel workers to begin their job search.
The top 5 workplace frustrations that lead to employees wanting to change jobs, and how to solve them:
1. 32% of employees resent the lack of career development opportunities on offer
The results reveal that almost a third of employees feel frustrated and resent their current role for not supporting their career development.

Without a clear view of how their role can develop and progress within the business, ambitious and valuable employees will seek out employers that promote opportunities and provide longevity through a clear career path.
Solution: Prioritise learning and development and your employee's career goals
Work with your employees to discuss career goals or new skills that they would like to develop. This allows you to work together with your employees to construct a path of next steps. As a manager, it also allows you to create opportunities for your employees to develop the competencies necessary to take these steps.

There are several ways to do this. You can offer training programmes, provide access to e-learning, offer shadowing schemes or grant learning budgets – find out more about L&D strategies in more detail.

By keeping your employees development and career goals at the forefront of your company's plans, you're not only more likely to retain your employees, you'll build more loyal and engaged employees in the long term too. Your employees will feel valued as the company invests in and facilitates their growth, and they will also be constantly working towards a next step which provides one of the best forms of motivation. The desire to look for work elsewhere is diminished as employees instead focus on upskilling and working towards fulfilling the next opportunity within your business.

Finally, by investing in L&D, you're continuously increasing the knowledge base of your company. This means that you can promote from within, building loyal and insightful staff who champion your employer brand.
2. Just 48% believe their management teams contribute towards a positive environment
Positivity comes from the top down – why should employees feel motivated and positive when their leaders aren't acting in this way? The study found that almost half of employees don't feel that their workplace leaders create a positive environment.

The effects of this not only damages relationships between employees and their employers, but also causes employees to seek more inspiring workplaces elsewhere.
Solution: Regularly recognise and reward good work

Your employees want to feel that their efforts are being noticed and appreciated, and it's down to workplace leaders to make this a regular occurance.

There are various ways to recognise your employees' hard work. You can give praise in 1-to-1s for completing performance goals or displaying company values but one of the most effective methods is to give reward and recognition which the whole company to see.

For example, Perkbox Recognition does this with a company-wide feed where colleagues can leave comments and share in the celebration of great work.

Recognising the accomplishments of your employees doesn't have to be as big of a statement as a financial reward or bonus. It can be as simple as showcasing exceptional employee contributions, by posting a personalised message of thanks on the company-wide feed for everyone to see.

Whether it's acknowledging the 'Unsung Hero of the Week' for their contributions, or recognising someone going 'above and beyond the call of duty', you can show your employees that you see the great work they're doing and thank them for it. And for when work really is outstanding and deserving of a material reward, you can choose from a range of rewards in a budget that suits you – which can be anywhere from a bottle of bubbly to a skydive.

By implementing a platform that makes recognition a simple part of everyday life in the workplace, your employees feel more positive. That's because they're receiving recognition and praise for their work regularly. After all, you're much more likely to stay at a company who appreciates you for being there.
3. 59% don't feel aligned with their organisations goals
When personal and organisational goals are aligned, the individual's drive towards their employers mission is strengthened. So knowing that a huge 59% of employees don't feel that their individual goals match the goals of the company that they work for should ring alarm bells if you're struggling to motivate your workforce.
Solution: There's no such thing as too much communication
A lack of communication can lead to a feeling of misalignment. It's difficult to motivate employees when they're not clear on the goals of the company. And it becomes even more difficult if they don't know how they're going to get there or why these goals are important.

Of course, business goals can change and shift but it's vital that these developments are constantly communicated to employees – along with the reasons behind these changes. This helps to keep everyone feeling on track.

When managers and leaders speak passionately about company goals, it's absorbed by those around them. So make sure to communicate these goals and how everything you do as a business relates to them.

It's also important to embed your company goals into the everyday workplace culture and values of the business. Every employee should know how each of their tasks contribute towards the overall company goals, with managers basing recognition and rewards given in line with overall company goals.

The alignment of individual and company goals leads to much stronger drive and motivation. Your employees are also going to be much more engaged when they feel like a personal goal is being reached.
4. 66% of employees believe rewards would increase loyalty
A whopping two thirds of employees don't feel they're offered sufficient additional benefits in return for their endeavors – such as cost-saving perks, free meals and discounted gym memberships.

When employees don't feel that they're being fairly rewarded, it can lead to feelings of being undervalued by employers. These employees are more likely to think about and investigate what they could receive elsewhere.
Solution: Offer exciting benefits that are right for your employees
Perks play a key role in keeping employees happy, motivated and engaged – ultimately, making them stay in the company.

Benefits should always include a competitive salary, but in today's employment market, you need to offer more than that. Offer benefits such as unlimited holiday packages, health and wellbeing benefits, flexible working and ways to make your employees' salary stretch further. They're all great ways to show employees that you really value their efforts.

They'll be satisfied in the feeling that they couldn't be receiving more elsewhere. Find out more about Perkbox's exciting benefits offering.
5. 35% identify a lack of communication as their biggest frustration at work
The findings show that a lack of organisational communication and transparency frustrates employees even more than poor leadership. Organisations are failing to articulate their requirements on both an individual and collective level, leaving more than a third of employees with a lack of direction and drive.

Further, when employees don't feel that they're able to express an opinion on the things that affect them, they begin to feel disengaged. Without communication building stronger emotional connections, employees may feel little purpose and value to their work, leading to less loyalty and greater chance of job switching.
Solution: Communication is a two-way street
While we mentioned above that there's no such thing as too much communication, it's important to bear in mind that your employees need to be able to communicate their thoughts and feelings about the business too.

Providing employees with a platform to give regular and confidential feedback will make a huge difference to retention rates. Especially when it allows them to comment on all elements of the organisation.

When you show employees you're prepared to listen and act on that feedback, it shows that the business values them and is actively working to improve their employee experience.

By having a say in how the business is run, employees feel more engaged. When employee's feedback is acted upon, the employee experience is improved, which in turn, increases the company's ability to retain valuable employees.
Ready to create an effective employee retention strategy? Discover more about the Perkbox Platform