How Perkbox is keeping culture high remotely
Working at Perkbox has maybe led me to take certain things about work for granted. You don't miss what you've got until it's gone, as the saying goes. And in a weird way, the current lockdown situation has reminded me why I started working here in the first place – the people and the culture.
The amount of work our people team has put into keeping our culture alive over the last few weeks has been remarkable. They've really helped to make this difficult period a positive experience, and have done so much to keep us all smiling.
We wanted to share these initiatives with you to show how even small gestures can have a powerful impact on company culture. Here are some of the things which have resonated with me.
Initiatives to keep company culture high remotely:
Remote snacking
We're blessed at Perkbox to have our breakfast provided with cereals, eggs, avocado and the likes. There's also plenty of snacks available, including fruit, yoghurt and crisps – and my favourite, chocolate hobnobs!
Moving to remote working has left us to fend for ourselves, and while an extremely minor inconvenience when you look at the current bigger picture, our people team have found a way to keep up our office snacking habits at home.
As part of our recognition programme at Perkbox, the people team send a random 'On Us' reward to employees who have been regularly recognising the hard work and achievements of their colleagues. This reward includes a selection of office snacks and a personal note letting the receiver know that Perkbox is thinking of them.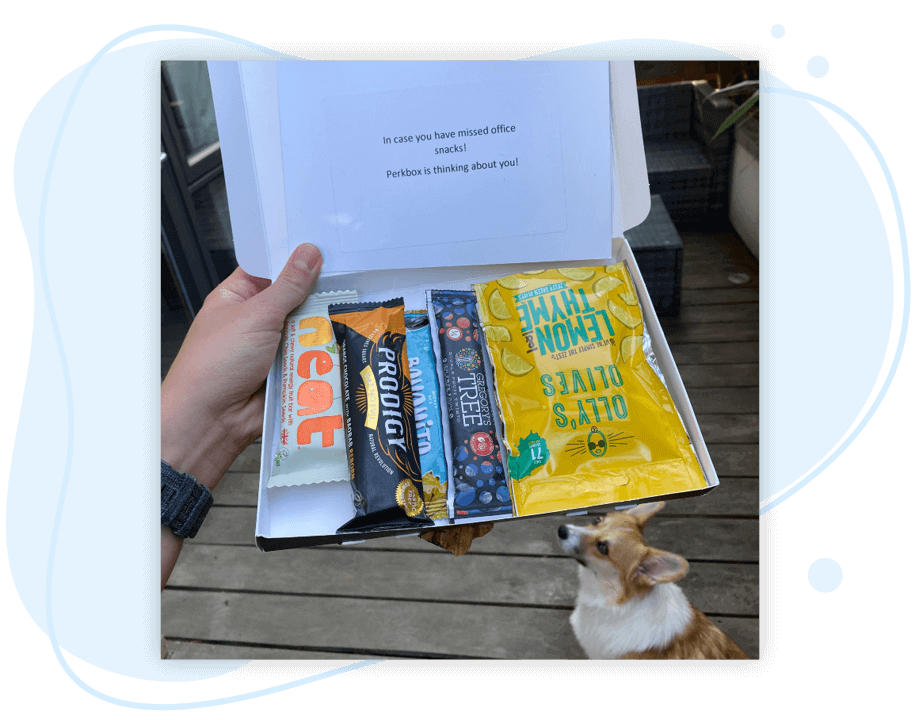 Free subscriptions
Keeping our minds happy and healthy during this time is important. Especially with uncertain news and all the hearsay being spread by people online. Finding alternatives to scrolling through the bad headlines and people's rumours can help to relax when we need it most.
Back when we were in the office, we had mindfulness activities such as gong meditation to help us relax. Now we can't all gather around a gong, Perkbox has given a free subscription to Calm to everyone who wants one. Calm is a meditation app which features everything from relaxation sessions to bedtime stories read by Matthew McConaughey. While I haven't had the Oscar winner lull me to sleep yet, the meditations have been a big help in improving my mood.
The people team have given us another subscription to Blinkist – an app which takes popular books and breaks them down into smaller, more manageable chunks. They're a great way to digest some quick learnings without having to pay for and source the actual books!
Learning and development
Knowing that we've all got a bit more time on our hands now, Perkbox has given us all a budget to spend on our learning and development. Just because we're in a different working world, it doesn't mean career growth has to stop. And you could argue L&D is more important than ever – learning new skills now which business might need to utilise in the coming months.
With a huge range of online training courses available, people haven't been short of inspiration in finding areas to grow. We have access to free, personalised learning resources through the Perkbox platform – so it would be pretty foolish of us not to utilise the great benefits we provide our customers after all!
One of those resources is Magpie. It's free to use through Perkbox and tailors professional development for the user.
Virtual meetups
Coming from a workplace culture where everyone feels more like friends than colleagues, it makes being away from our office a little harder. Thankfully, our people team have been doing a number of initiatives to keep us feeling connected and engaged. So far, we've had virtual yoga sessions, Easter egg hunts and maintained the tradition of Friday afternoon drinks.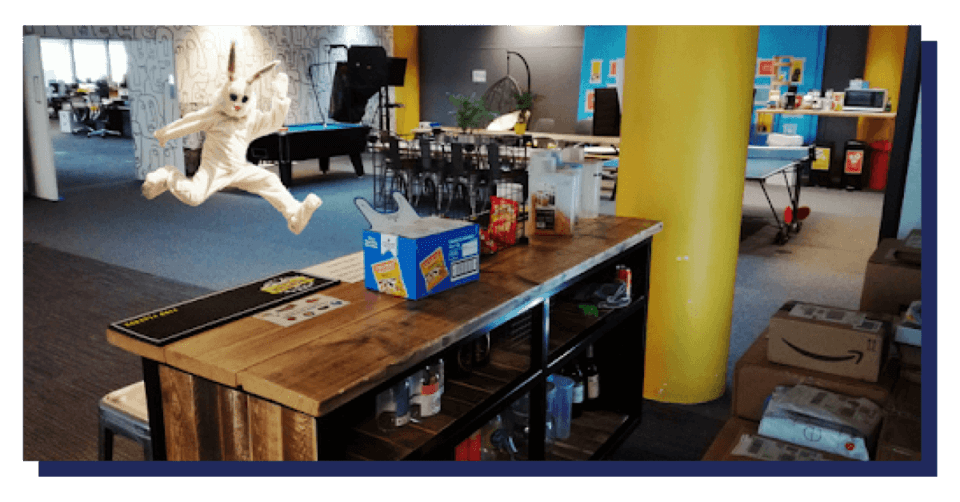 Yoga and Friday drinks are easy enough to arrange over Zoom, but our Easter egg hunt took a little more creative thinking. Our people team "hid" a few Easter eggs around our office and asked people to guess where they might be. The winners were then sent a chocolate egg.
And being the forward-thinking people they are, they gave those who don't eat chocolate the option to receive a fruit basket instead!
External speakers
A tradition at Perkbox is our PerkX talks. You might recognise the name – *cough* TEDX *cough* – but we invite external speakers to come into the office and give a talk. They range from friends of the business to inspirational people with great stories to tell.
Just this week we had Sam Conniff, Author of Be More Pirate, as our latest PerkX speaker. The difference this time, we did the whole thing over video call, in lieu of not being able to attend the office.
Rather than being hindered by Zoom, Sam's talk used it to his advantage and had us actively engaged with his presentation. Sam did this by providing a set of questions to answer at certain points based on what he was talking about. This helped us to put our feelings of the current situation into perspective and think about what a better tomorrow looks like for us.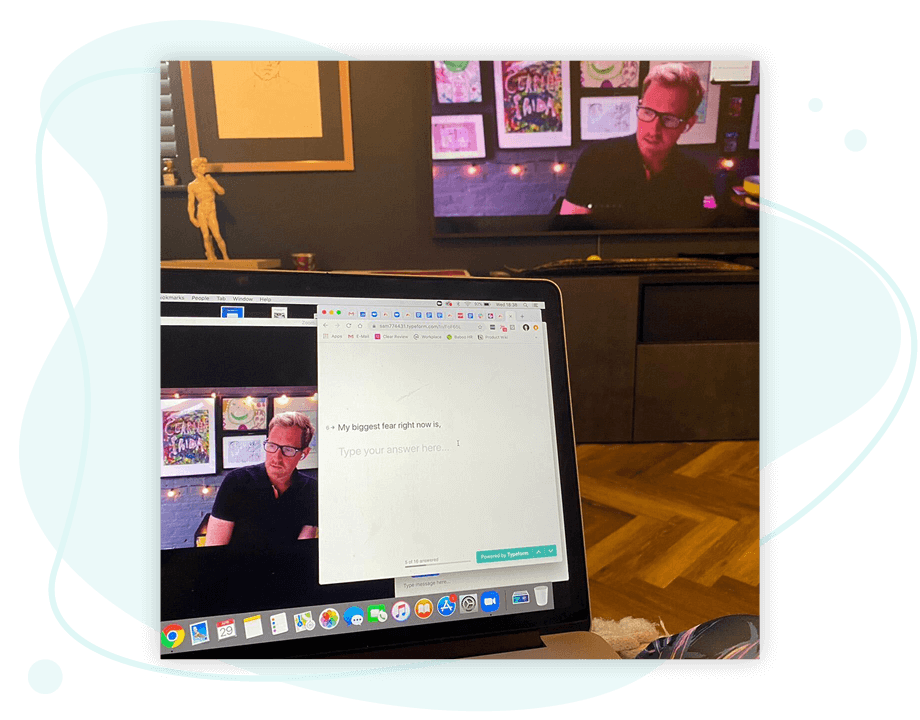 Open communication
We have a 'Let's Talk' session on the last Friday of every month where the members of our leadership team candidly answer our tough questions from across the business. Thankfully, this hasn't stopped since lockdown began.
These sessions have now been moved to Zoom and are as informative and open as before. The leadership team give a presentation, answer questions which have been submitted and then take questions from the digital floor.
Being open like this is as important as ever. Many people want to know how their business is getting through the current climate, and that's no different at Perkbox. Thankfully, we've got a people focussed leadership team who are continuing to be honest and open with their communication.
Another part of this is continually checking in with the real-time data from our employee feedback tool, Insights. Our people team uses it to track how engaged our workforce is across ten key drivers. Being able to see exactly how we're feeling at Perkbox helps our people team to tailor our cultural initiatives more effectively.
Continued celebration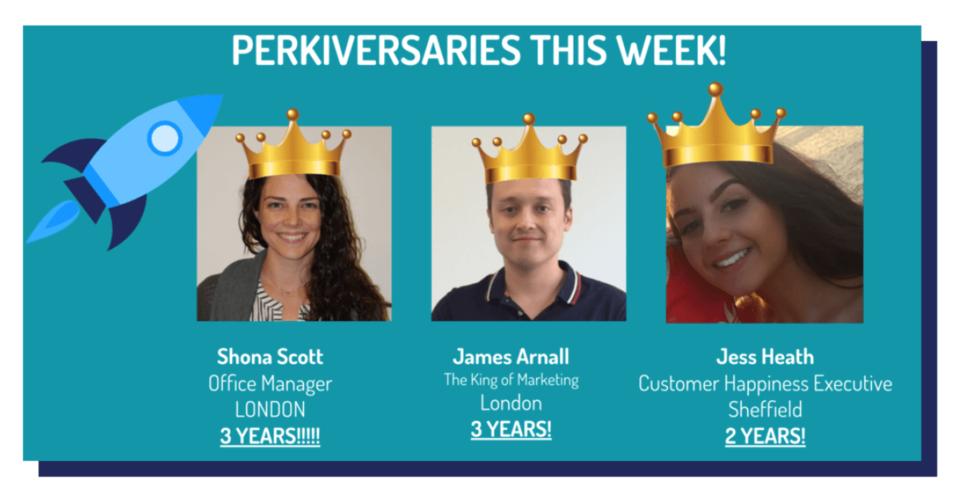 Perkbox has always made a song a dance about new starters and work anniversaries. And the remote working transition hasn't put an end to that.
Each new starter is welcomed with their manager sharing a short bio about them on our Slack channel devoted to keeping the culture alive at Perkbox. Their new team also welcomes them in their own way considering we can't take new starters out for lunch right now!
Anniversaries are celebrated in the same way, with our people team sharing the above image on Monday morning for any people celebrating their Perkbox milestones that week. Their manager will then write a message about what that person has brought to the business.
Our continued celebrations don't stop at new starters and anniversaries. Internally, we have a quarterly award ceremony which we call 'We Are Perkbox', and just because we're all forced to work from home doesn't mean that this would stop.
The people team got the whole company on a call and revealed the winners one by one, along with the reasons they had been chosen by their managers. This was followed by a company-wide applause via video call.
Spreading inspiration
With so many good deeds going unnoticed and us all needing a few positive news stories, our people team celebrated National Superhero Day by asking those with heroes in their lives to tell everyone at Perkbox about them.
If you haven't heard of National Superhero Day, don't worry, neither had I! It's on 28th April every year and our Slack channel dedicated to culture was awash with stories of heroes in people's lives.
My particular favourite was one colleague's neighbour who managed to get their entire street into a WhatsApp group and single-handedly pulling their community closer. The WhatsApp group has been used from everything from making masks for care homes and helping an unlucky individual who broke their leg on the first day of lockdown.
Key takeaways
The things we do at Perkbox aren't limited to just our employees. While the things mentioned above might be tailored to our employees, the principles can be applied to any workforce:
Stick to business-as-usual as close as possible
Keep communication open
Recognise people's achievements, anniversaries and first days
Give employees learning opportunities to fill all this extra time
And here's sending a big thank you to our people team!
If you want to get more out of your culture remotely, download the remote culture checklist using the banner below: