How Perkbox is working from home

As companies are shifting to remote working to prioritise health and safety, a lot of employees are finding themselves in unfamiliar territory. Lounges are becoming workspaces and bedrooms are where we're making calls.
Yes, working from home is different and sometimes it might be difficult. You need to find your own formula that works best for you and makes you the most productive. It also takes a fresh look at your self-motivation as your manager and colleagues are not physically there to support and motivate you.
Our people team have put together an internal guide for Perkboxers to help make working from home more efficient, innovative and collaborative – shout out to Mona, Maddie, and Louise! – and we thought you might find it useful too.
So here's the advice we're giving our employees at Perkbox to help with working from home. Feel free to share this with your team or adapt it in a way which works for your employees.
Communicate like never before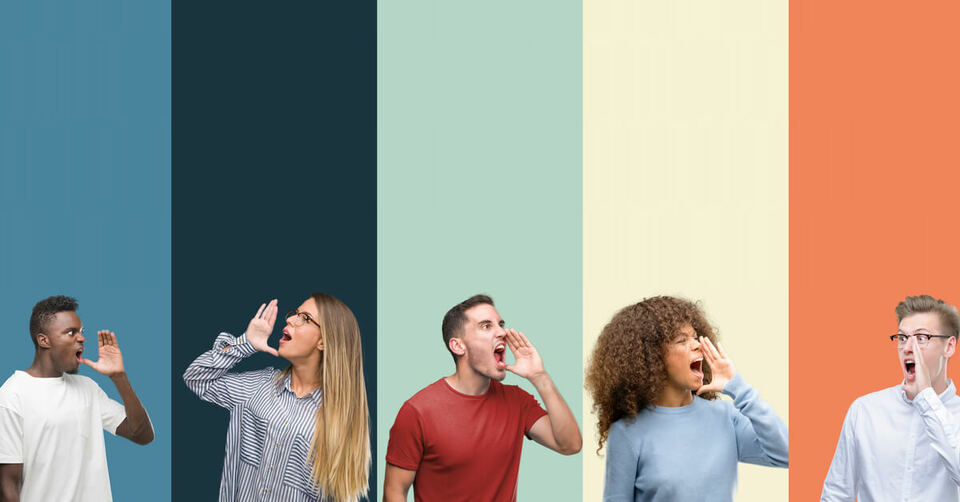 Communication is what makes businesses tick, even more so when everyone is out of the office. While you might like the break from the odd person popping over and asking if you have a minute, being in constant digital contact with your colleagues keeps things moving.
First thing is to make sure you turn on all your notifications – whether that's email or internal instant messengers – so that you can quickly respond to colleagues.
When sending messages though, make sure you ask questions and understand everyone's work expectations. Nuances in conversation can get lost through digital communication and sometimes the obvious might not be obvious enough.
Likewise don't be scared to ask to follow up questions and definitely don't be afraid to ask the same question again if you feel like you need clarity. This is also a good time to start embracing video calls as they can make communication much smoother.
We also recommend setting up video calls and catch-ups with your manager and colleagues – especially if you have regular one to one meetings with them. This will ensure you're keeping in touch with projects and tasks and getting as much social interaction as possible.
Have a dedicated workspace
If you don't have a home office, try creating a space that feels like one – even if it's a humble corner of your kitchen – and take yourself there when it's time to work.
Going to the same place each morning should put you into 'work mode' and the golden rule here is don't work from your bed. Creating a space entirely dedicated to work will put healthy boundaries between work and home. This is hugely important for your productivity and efficiency.
Things to consider for your work environment:
Natural light
Regularly open a window to get fresh air
Comfortable chair with back support
Setting up your laptop at the right height – the top of your screen should be in-line with your eyebrow to stop you from dropping your neck or slouching over to view the screen
Get out of your pyjamas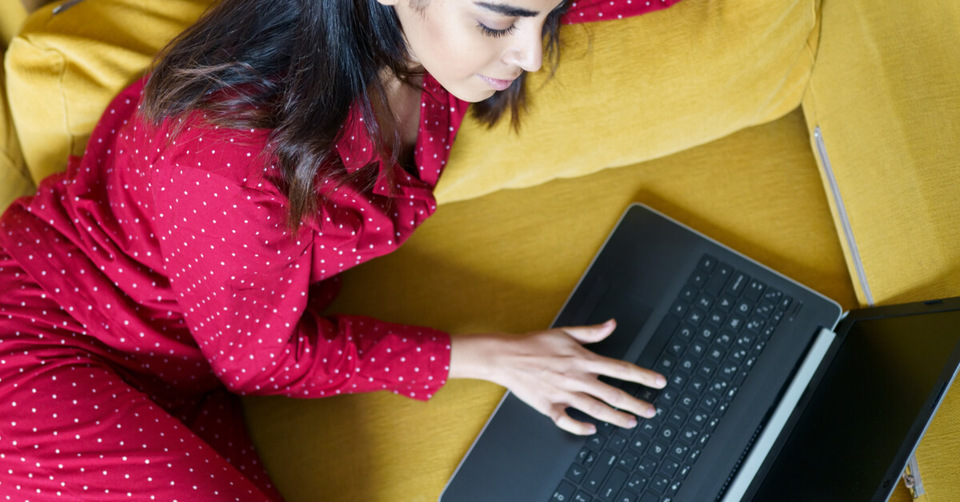 It might be tempting to spend all day in your pyjamas now you're not in the office, but we find that doesn't work for most people. Sticking to your routine of getting up, showering and getting dressed helps us to transition to a more switched on mindset.
You can still make sure you're comfortable by all means, but you never know when you might be asked to jump onto a video call!
We also recommend turning on your video during video calls as it helps to keep the connection as human as possible. No one wants to talk to a blank screen when they could be talking to a familiar face.
Create a routine and stick to it
A sense of "normal" working is maintained when you stick to your normal working routine. If that means at your desk by 9 am and having your first coffee break at 11 am with a colleague, stick to it. You can always have your coffee break over video call!
Sticking to these routines is not only important for you, but it also helps your colleagues and teammates who might need your help. If you're chopping and changing your routine it will make it harder for them to work with you and harder for you to dedicate time to your work.
This also extends to your finish time. If you usually leave the office at 6 pm, make sure you log off at 6 pm. Now more than ever is a time when work/life balance can blur, so it's important to take your lunch and spend your evenings away from work.
Take regular breaks too. They'll refresh your mind, recharge your attention span and help you focus on your tasks.

Depending on the calendar and internal communication tools you use, set your status to show your colleagues when you're available and when you're busy. And if you're busy on a call, make sure you're transparent and block out the time in your calendar and set a status on Slack.
Make a to-do list
In the same vein of creating a routine, it's also a good idea to make a to-do list which maps out what you want to accomplish over the next day, week and month.
If you don't plan, you're a lot more likely to end up scattered and all over the place – which can then send you towards the entertainment temptations which exist at home.
Set deadlines too, or have your colleagues set them for you if your work directly affects them. You'll find it much easier to prioritise and see the bigger picture of what you need to do.
Stay connected
Working from home can get lonely. That's why we're creating a virtual version of our office's Happiness Lab. This is the large breakout/meeting area of our office with benches, sofas, ping pong tables and coffee machines.
By creating a virtual version of the Happiness Lab, employees can connect with colleagues at any time and take a break with them as they would do in the office. We'll also be relaunching 'Doughnut Time' on Slack which randomly assigns people to get to know each other.
People might be hesitant to jump on non-work related video calls at first so anything which we can do to encourage "social" interaction will hopefully make it feel the norm – and keep everyone's spirits up.
For example, our team in Australia have already embraced this by having a fancy dress video call and voting on the winner through our Polls Recognition feature!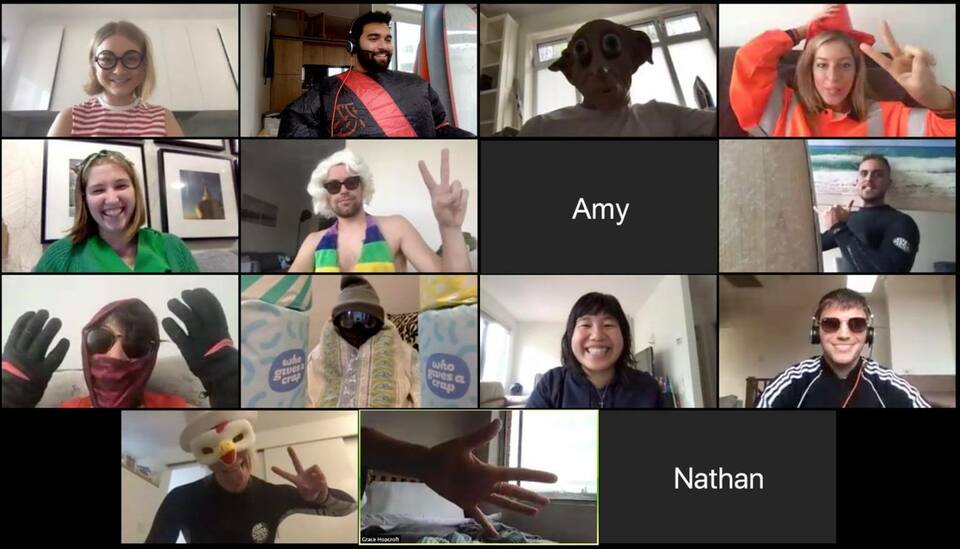 Be transparent and take accountability
There are aspects of work which might be more difficult to complete now you're at home. When you encounter this, it's much better to be as open with your manager about it as possible.
They may have already been in the same situation themselves and found a way to solve the issue, or they may be able to move deadlines around and set more realistic expectations across the business.
It goes back to regular communication. The more people know about how your work is going means the more they know how it affects them, and vice versa.
Exercise if you can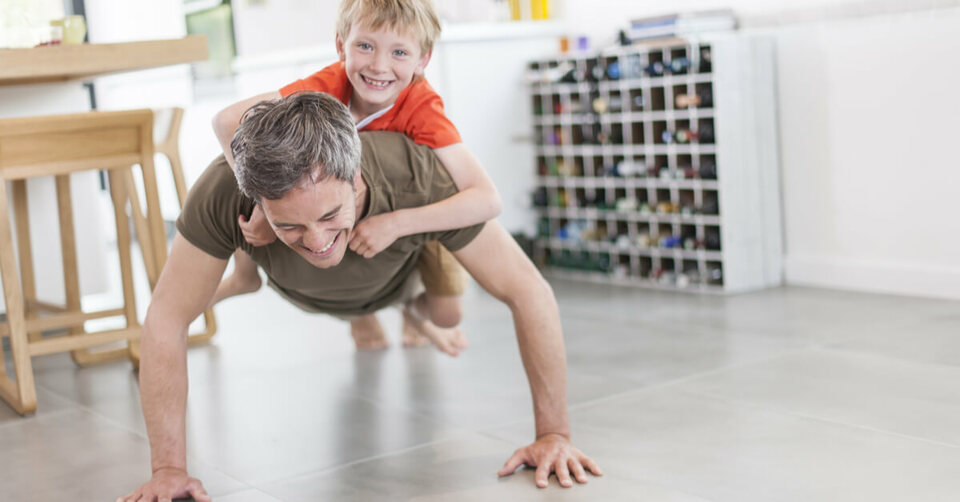 Regular exercise is proven to release endorphins and relieve stress. If you can't/don't want to go to the gym or for a jog, we recommend finding ways to keep your body and mind active.
Becoming stagnant at home is a quick way for your mood to deteriorate and feel external pressure. We're suggesting that our employees use the online health resources on Perkbox such as free online fitness classes through Boxx.
Meditation is also a powerful tool during this time. Finding time to relax and take control of your thoughts will help you be more mentally resilient while having to work from home.
Food is energy
Being at home means you can manage what you're eating far more easily than being in the workplace. Especially now we're away from the office cookie jar!
This is a great opportunity to buy fresh food while you can and use your time to find healthy recipes. And in the same way exercise and meditation will help, eating the right food will help improve your mood. We understand that a lot of people are buying pasta, rice and canned food right now, but please don't forget about your vegetables!
And if you do need to have a cookie every now and then, don't feel guilty!
Working from home employee tips: key takeaways
While it may be unfamiliar territory for many, people have been working from home for years now and you can make it work for you.
Our key takeaways are:
Keep communicating whether for work or to maintain social interaction
Structure your day just like normal and create a home office
Stay connected with your team and your communal goals
Exercise if you can and eat right to maintain a positive state of mind
We've also shared these working at home resources from our friends at LinkedIn across our workforce. You might find them useful too.