How to build your company brand
It's essential to have a recognisable face for your business. People buy from people they trust, and the easiest way to build trust is to compress your company into a consistent and appealing brand. We're here to help you master brand building.
What does building a brand mean?
Brand building is how to raise awareness of your company. Your brand is the face of your company. It includes the logo, product design, advertising campaigns, and general backstory.
Think about the McDonald's famous 'golden arches'. This branding is their logo, but also gives the idea that through the golden arches, customers are entering into the McDonald's world. They are a prominent feature on most of the McDonald's restaurants, appealing to their demographic of drive-by customers who will spot the golden arches from a motorway.
It sells the idea of a welcome break and quick, tasty food. Many hungry passers-by will see the golden arches and, like spotting a fried chicken oasis, consider calling in. McDonald's has built a brand that is really recognisable and successfully targets their demographic. In other words, they're 'lovin' it'.
Your brand is the aspect of your company that attracts people. It should be easy to understand, interesting and fun. Its primary purpose is to provide your company with a backstory that potential clients or employees find engaging.
Why is building a company brand so important?
Branding is often the main way that companies win over their audience. It's the romantic side of consumerism – customers need to be told a story they agree with. It could be about a company's humble beginnings, their utopian dream, or simply something funny and refreshing.
A strong brand will entice new customers and keep old ones loyal. Inside the company, strong branding will motivate employees to work hard.
Forget-me-not
Brand building is the key to getting your name out there. Customers need a company face they can relate to and easily remember.
Recruitment and Retention
Branding is just as useful when it comes it recruitment. Potential employees are going to look at the reputation of a company before they apply to work there. Therefore, it's crucial to maintain a strong employer brand to hire the freshest talent.
Loyalty
A strong brand will entice new customers and keep old ones loyal. Inside the company, strong branding will motivate employees to work hard.
Company ethos
Your brand should present your company ethos in an easily understandable format. This keeps clients and employees engaged. Here at Perkbox, we all know that engagement is key to running a successful business.
So how do I build my company brand?
Never fear. We've put together the key guidelines for building a successful brand. These strategies will give your company brand support, making you memorable to the public.
1. Stand out from the crowd
Consider what makes your company unique (read here for some tips of how to think of this) This is your Dragon's Den pitch - are you filling a gap in the market, and if so, how? Consumers are drawn to new goods and services, so think about how you can market yourself as something new and interesting.
Think about what's great about your company to get yourself known as a top competitor, or employer of choice.
Don't be afraid to be bold and different. Plus, you will be doing a service to society - your innovations could drive the market forward in the future!
2. Unify your message across the board
Once you've established your unique slant, you can strengthen this by reflecting it across the board. Your product design, website and advertising could all tie into your niche.
For example, you might have discovered the recipe for an extra-hot chilli sauce. Your USP (unique selling proposition) is that this sauce is the hottest on the UK market. Make sure that all aspects of your brand reflect this.
A key part of your advertising campaign could be asking volunteers to try the certified hottest UK hot-sauce. You could give the packaging a warning sticker pointing out its extreme spiciness.
If all parts of your company reflect the same branding, customers will recognise your product next time they come across it. This will entice people into buying from your company.
3. Be authentic
It might be tempting to mimic the look of a more established company. After all, their angle has certified success. However, this won't work in your favour in the long run.
Don't be a sell-out! Firstly, staying true to your own personal motivations will give you and your colleagues a sense of genuine motivation. Secondly, it will be much easier to think of content if your brand is aligned with your real interests and ideas.
Also, bear in mind that your unique brand might be more appealing than a larger company, especially if that company is a large establishment or chain. Many big brands put a lot of effort into appearing smaller and friendlier than they actually are.
Think about how clothes industry giant Primark label their clothes. The clothes are split into several different lines, including 'Divided', 'Atmosphere', 'Love to Lounge', and 'Denim Co.™ Est.1969'. These unique personas under the Primark umbrella were designed to appeal to distinct consumer tribes. Labelling, advertising and package design all reflected these smaller sub-brands.
The results were evident: after re-branding Primark's denim products as the unique Denim Co. range, sales increased by 16%. Consumers were drawn to the convincing authenticity of these sub-brands. They preferred the idea of shopping under a more precise, small-scale label over Primark's non-specific anonymity - even though this was an illusion.
People like to see the human face behind the corporation.
This shows that consumers prefer a smaller brand to 'Big Business'. If you are an emerging business, keep this in mind when constructing your brand story. People like to see the human face behind the corporation.
4. Don't rely on the logo
The logo: an important part of your company's branding, and often the first thing customers will see if they discover your company online or in a shop. It can be tempting to focus on this first impression and ignore the more subtle parts of your brand story.
However, this can come off as two-dimensional. Respect the intelligence of your customers, and don't lay all your cards on the table. Leaving a little bit of mystery will intrigue people into discovering more about the brand themselves.
The bigger the surprise, the more likely it is that the public will remember your company.
This technique is usually seen in advertising campaigns. Have you ever seen an advert where the actual product is only revealed in the last second? This is usually for products you can't experience just by watching on the telly or in a cinema – like perfume, alcohol, or cars. Instead, you are being sold an idea. The point of the advert is to intrigue potential customers into trying out the product for themselves.
You can even take this to extremes with undercover marketing. Also known as 'stealth marketing', this is when actors are paid to promote a product to an unknowing audience.
For example, Sony hired actors for their 2002 advertising campaign to wander around tourist hotspots in various cities, asking people to take photos of them. Of course, the phone in question was Sony's newly released camera phone. During the interaction, the actors raved about their cool new phone, while members of the public were oblivious to the targeted advertising.
Some companies also use graffiti murals or flash mobs to promote their brand in new and unexpected ways. The bigger the surprise, the more likely it is that the public will remember your company.
5. Use social media to get your name out there
It's easier then ever before to carry out marketing campaigns and increase brand awareness – if you know where to look. Social media platforms like Instagram, Facebook and Twitter provide an option to boost your posts for very little money.
Having 'sponsored content' circulating on social media is a cheap way to get your name on people's newsfeeds, and into the public psyche. It's also a good idea to maintain active profiles on all social media channels, as these are other ways for customers to find out about your company.
You can also use search engines to increase the traffic to your website or online platform. Search Engine Optimisation (SEO) helps to grow brand visibility through searches on search engines like Google or Yahoo. Companies produce content that appeals to their target audience, to build a bridge from web browsing to product engagement.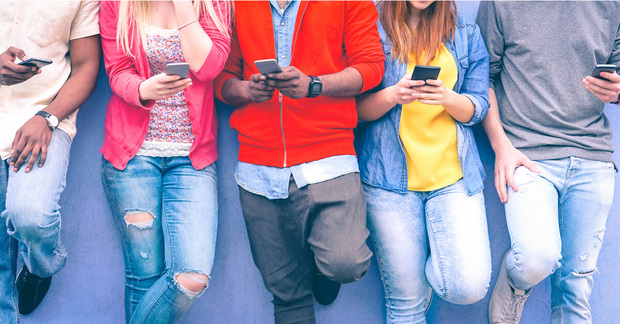 6. Be fluid.
In the words of Bear Grylls: adapt, improvise, overcome.
The key to maintaining a successful brand is to be fluid and engaging. Never stop thinking about how you can adjust and streamline your brand to fully demonstrate your company ethos, and attract maximum customers. This includes a complete re-haul: you should also be prepared to change up your brand when the time is right.
For instance, millennials are now important consumers and employees. In two years, over half of the working population will be millennials. PwC recently released a report summarising the effects of this new generation on business, called Millennials in the Workplace. It revealed the problems facing companies that aren't adapting to this generational shift.
Feedback is hugely important. Listen to what your customers and staff are saying, and adapt your brand story to reflect this. Creating a feedback loop will help you keep in touch with how your company is being received on the ground, and make adjustments to keep your reputation amazing.
These tips should get your company on the road to building a successful and memorable brand. Remember that 'brand building' is a job that can never be completed. Keep your finger on the pulse at all times to help your brand develop into something really special.