Inspire your employees with great work perks and benefits
Having the right work perks and benefits can have a huge impact on the talent you attract to your business. It can also impact how you engage and retain employees.
75%
of employees say they're more likely to stay in their jobs because of their employee benefits package¹
69%
of employees say a better benefits package would make them choose one company over another¹
60%
of people report that benefits and perks are a major factor in considering whether to accept a job offer²
Why should you choose Perkbox to boost employee engagement?

Employees love our perks
Over 2 million perks are redeemed each year

We help you build a strong company culture
Over 100,000 recognitions are sent each year

We're engagement experts
More than 10 years experience in enhancing employee engagement
The best employee engagement platform for discounts
Show your employees you care with a comprehensive perks and discounts package that will save them money all year round.
When employees feel their company has taken steps to make their lives easier, they're more loyal and productive. This in turn reduces turnover and increases employee satisfaction.
Treating your teams to perks and discounts has never been easier, and with our employee engagement platform, your people get access to:
Over 4,000 discounts and perks at the biggest brands around
A monthly allowance of Flexi points, which they can exchange for Flexi Perks at no cost to them
A range of Flexi Perks, which could include a small treat at Greggs, or a bigger perk, such as streaming an ultra HD movie on Rakuten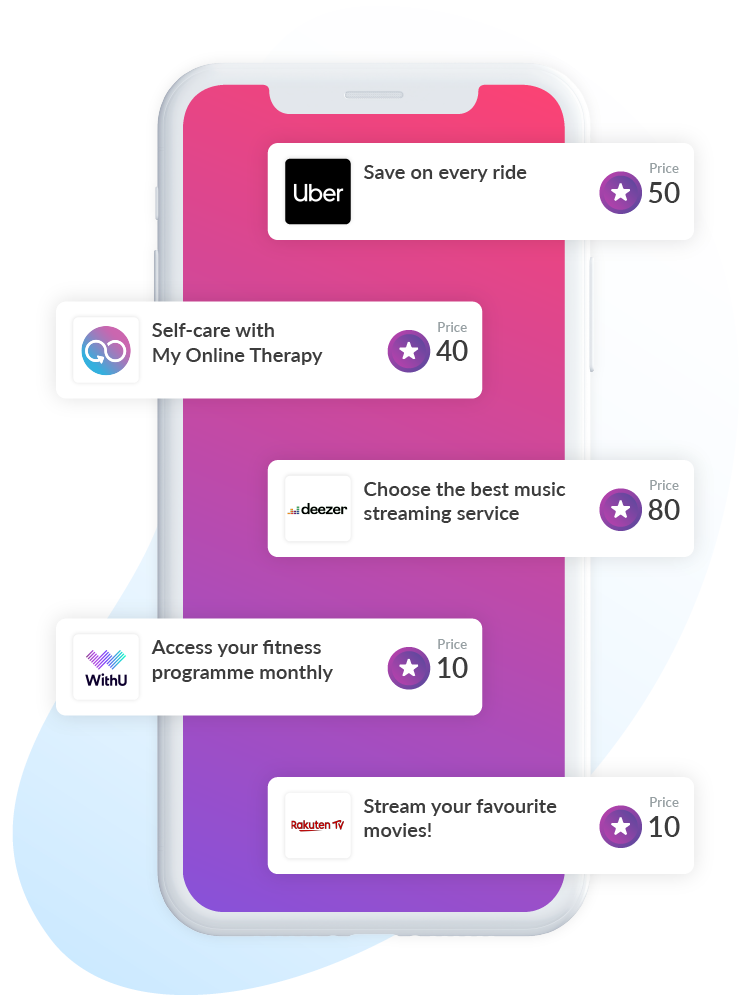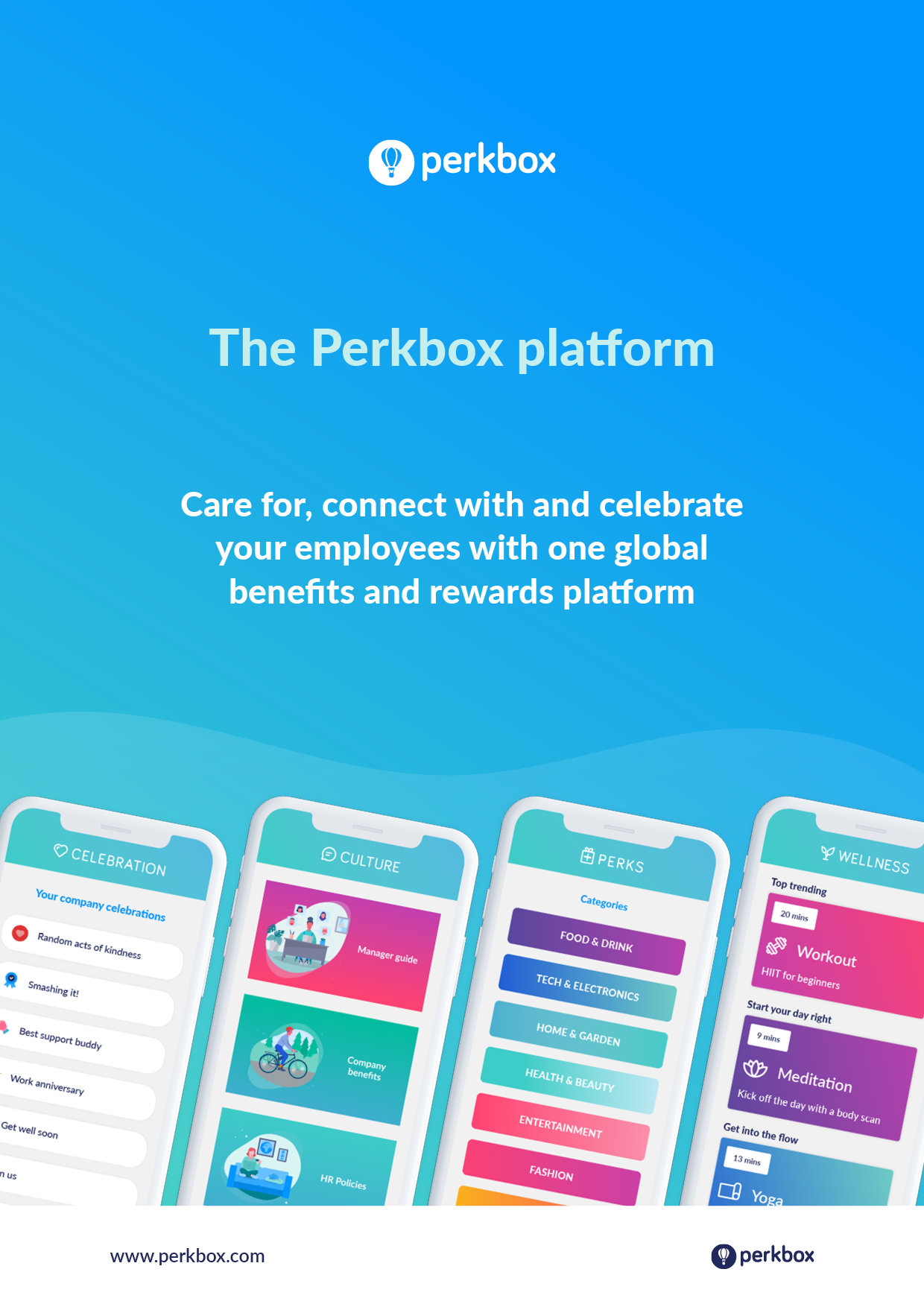 Featured brochure
Get an overview of the platform
Learn how you can care for, connect with and celebrate your employees with one global rewards and benefits platform.
Celebrate your teams and build quality employee engagement
Celebrating your employees' professional achievements and personal milestones is one of the most effective approaches you can take to increase engagement and boost team morale.
When team members receive recognition or a reward, they become confident their work contributes to business success. This not only increases productivity but also creates a strong workplace culture.
We can help you promote a culture of celebration and appreciation that will keep your employees happy and motivated.
Promote your company values when managers or peers recognise a star employee
Celebrate your top performers by rewarding them with points which they can spend on a reward of their choice
Create polls that bring your teams together, from acknowledging a colleague who always goes the extra mile, to something more fun like voting for the best dressed!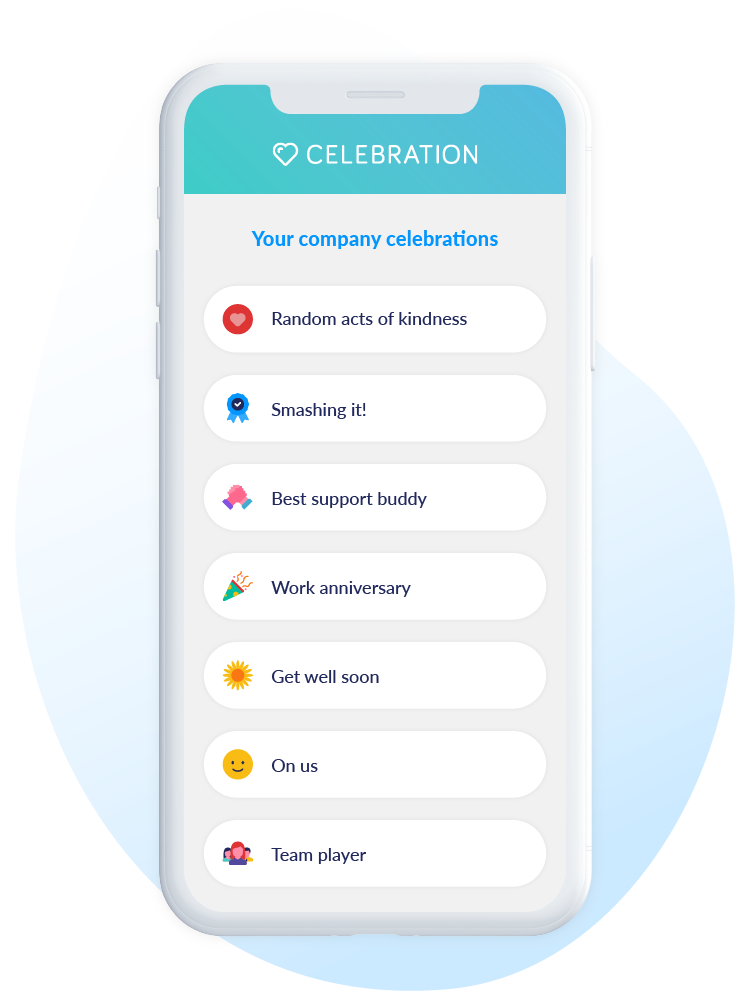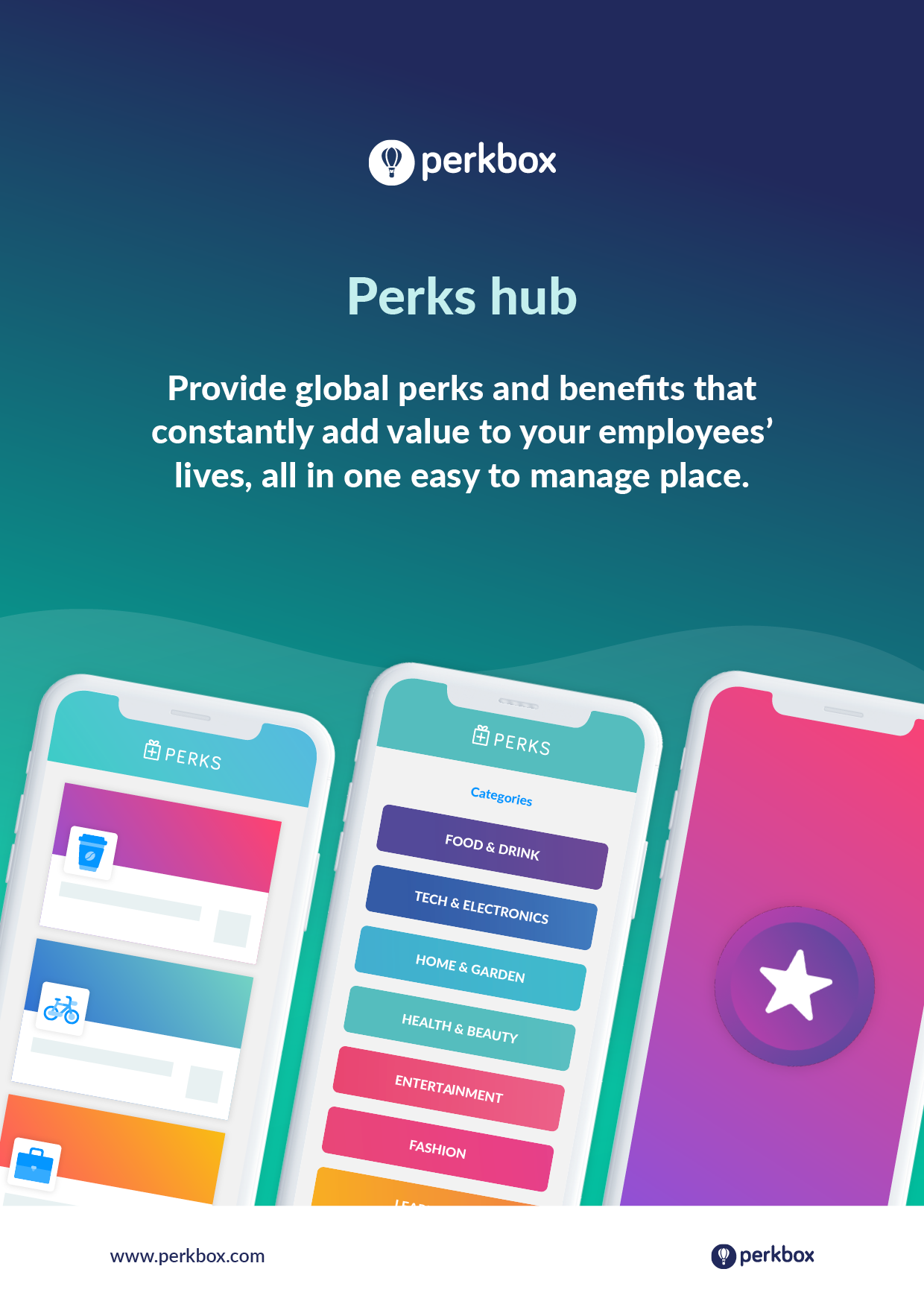 Featured brochure
Get an overview of Perks hub
Learn how you can provide global perks and benefits that constantly add value to your employees' lives, all in one easy to manage place.
Employee engagement software that enhances company culture
Unifying your EVP will encourage a greater sense of togetherness and promote a tight-knit culture, regardless of where your employees are all based.
Ensuring all of your updates, including key initiatives and company news, are accessible to everyone is the first step in creating a meaningful communication strategy that will connect with all of your people – including remote employees.
Because our app seamlessly integrates with your HR systems you can:
Create custom cards or use templated ones to announce company news and conveniently link them to other resources, such as town hall recordings
Effortlessly onboard new joiners and give them everything they need on one easily accessible app
Give your employees secure access to important comms when they are on the go with our Single Sign-On (SSO) integration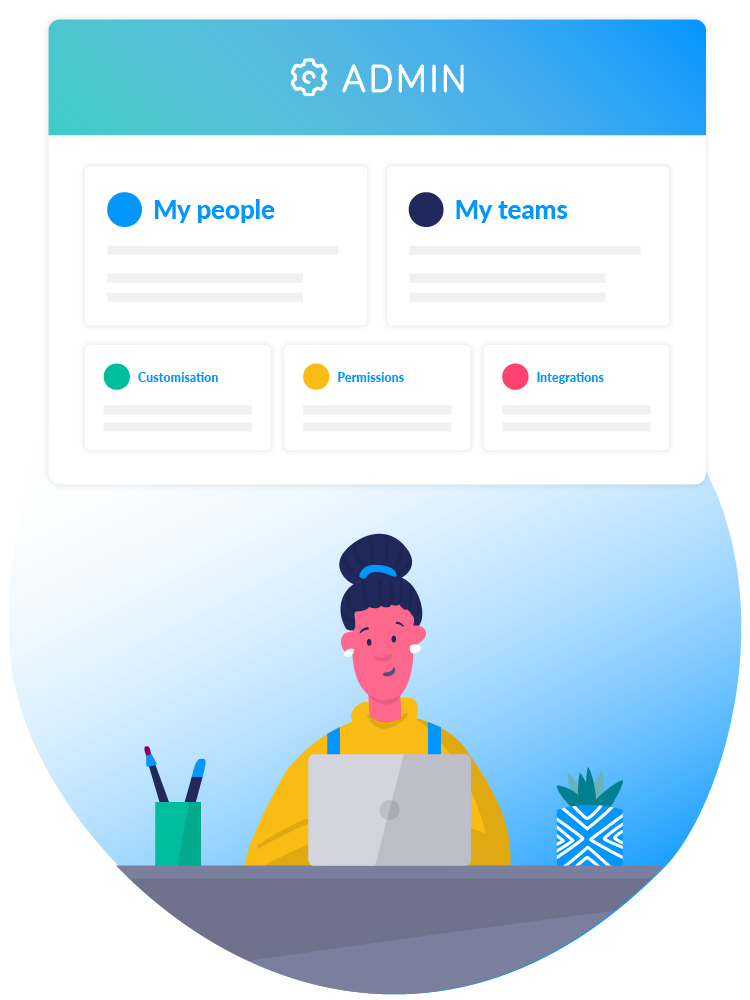 Support wellbeing with an employee engagement program
Maintaining your employees' health and wellbeing has never been more important.
Giving your people the right tools to take care of their physical, mental and financial wellbeing should form an integral part of your EVP and company culture.
In addition to reducing absenteeism, a holistic wellbeing program will also increase retention.2
Caring for your teams' wellbeing should be a top priority and we can help you support your people with:
Wellness hub - an ever-expanding content library that supports your teams' mental and physical health, including on-demand workout videos and guided meditations
A confidential, 24/7 helpline for when your employees need to talk to a licensed professional
Discounts to make their money go further, ranging from gym memberships and activewear, to home insurance and the grocery shop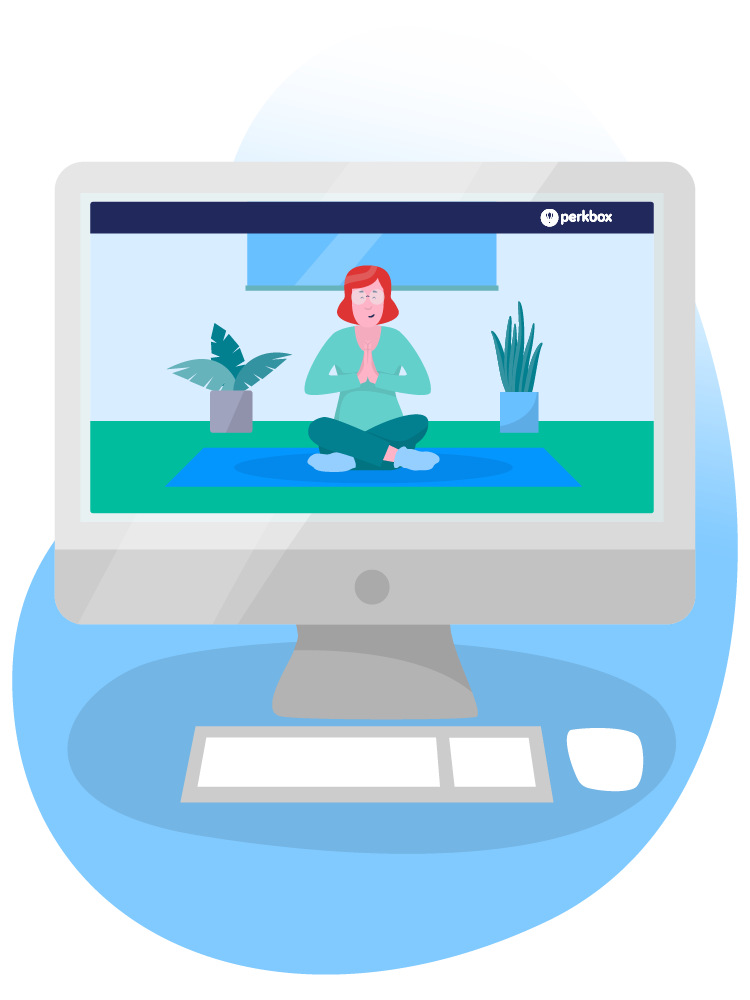 Employee Engagement Platform FAQs
What is an employee engagement platform?
An employee engagement solution helps increase engagement throughout your entire organisation. Teams usually access the platform by logging in on a computer or via an employee engagement app.
When researching employee engagement platforms, it's important to understand what features they should contain. Usually, employee recognition will form an integral part of the functionality, as well as a vast selection of perks and discounts.
When you use our employee engagement software, you can celebrate your teams and reward them when they go above and beyond. Additionally, you can integrate all of their perks, benefits and discounts in the Perks hub, so your people can easily access them whenever they want.
Perks and benefits employees can use any time, anywhere
Offer a huge range of free perks
Provide over 4,000 perks and discounts
Add custom company benefits
Centralise company benefits in one place