Why is talent acquisition important for business success?

It goes without saying that to fulfil business goals, you need the right people to help you get there. But for long term success, you also want these people to grow with your business and stick around.
Instead of simply searching for someone with the right skills for the job, for your company's lasting success, it's vital that you search for specialists and beyond. Talent acquisition focuses on finding candidates that are driven, innovative and with personal values that align with those of your company – ultimately, your next generation of managers and senior managers.
With a focus on these elements, you're more likely to find an employee who helps to push your business in the right direction. Without this, there's a strong risk that these employees will not be a good match for your company and may use your business as a 'stepping stone' – moving on quickly, which takes you back to square one.
What is talent acquisition?
The term 'talent acquisition' is often followed by the question – 'Isn't that just a fancy way of saying recruitment?' But, in fact, it's a whole lot more.
Talent acquisition is a proactive process, rather than reactive – in the sense that recruitment works. Instead of simply filling a role when it becomes available, talent acquisition teams are constantly working to identify and forecast the current and future needs of the business.
Talent acquisition teams are searching for appropriate candidates for positions that require specific skill sets, while working to create contacts in the field for any future roles.
In other words, talent acquisition teams are continuously working to meet their organisation's long term needs.
Not only that, talent acquisition managers and teams are also concerned with employer branding, future resource planning and diversifying the labour force. This can often lead to cross-over with HR, marketing and PR teams too.
That being said, it isn't always easy to shift from a recruitment mindset. If you want to kickstart a talent acquisition strategy but are struggling, we've put some thoughts together as to why this might be, and how to fix it.
So, what makes a successful talent acquisition strategy?

An effective talent acquisition strategy reduces the chance of an unsuccessful hire.
It's a strategy that saves time, money and resources that could otherwise be wasted on a long and ineffective hiring process for the wrong people.
In simple terms, a successful talent acquisition strategy is one that must be constantly nurtured and developed.
If you feel that your strategy may be struggling, we're going to look at some common problems that those shifting from recruitment to a talent acquisition strategy might encounter.
How to improve – 6 reasons why you're struggling to hire the right people

1. You aren't focusing on your employer branding
If you're having trouble attracting top talent to your business – your first step should be to look at your employer branding.
In today's competitive recruitment market, employees have all the control – it's no longer as simple as putting up a job advert and waiting for the applications to come in. Your employer brand precedes you as a company and candidates now have more access to information about your organisation than ever before.
By developing a strong employer brand, you can show potential employees what your company is about – the workplace culture, development initiatives, company benefits, even how you differ from your competitors.
You'll notice the effects of a well-thought-out employer brand, as it should reduce the time and resources required to hire for a new role.
If you're unaware of how your company is currently seen as an employer to the outside world, try putting yourself in the shoes of a potential employee. How would they feel encountering and researching your business for the first time?
Think about:
How would they encounter your company on a careers website? Everything from how you describe your company, to where you've listed the job description reflects on your employer brand.


Are there any employee stories or testimonials available on your website? These will help give potential employees a clear idea of what working at your company is really like and could, ultimately, persuade them to apply for your role over a competitor's.


How is your company rated on websites such as Glassdoor? Most candidates will check this during their job search. If you're truly focusing on the employee experience within your company, your ratings should be nothing to worry about.


Finally, does your website have any content that sets you apart from others as an employer? Many companies are now choosing to interview different departments or write blog posts about their workplace culture in a bid to get potential candidates excited about the prospect of working with a company.
Without strong employer branding, the talent acquisition process can become one that is expensive and time consuming - leading to high staff turnover rates.
2. You don't have a long-term mindset
As we've mentioned, one of the main differences between recruitment and talent acquisition is long-term strategy.
When you're focusing on what the business needs today, you miss what you should be doing to ensure that you can fulfil future goals.
Strong talent acquisition teams are always thinking ahead. Devise a plan and work with heads of departments to project the skills and resources you need in the pipeline to meet future company goals.
Next, compare these against the current resources of each department. This will highlight any gaps and allow you to put together a timeline and specification list in order to fill them.
For maximum efficiency, it's important that within this process, you don't just simply project the roles that you need to fill. To save more time in the long run, think about how long it's taken your organisation to fill these roles in the past – this ensures that you start the project in advance to allow for any potential road bumps.
By planning ahead, you can reduce any periods of being under-resourced, which could affect the business in a number of ways.
3. You're not networking
A vital element of a successful talent acquisition strategy is building up a network of relationships with specialists in your business area.
The most effective talent acquisition teams scope out industry events, online networks and conferences to meet specialists and talent, even when they don't currently have a role available.
Success comes from nurturing these relationships, so when the time comes and you have a role available, you already have contacts in mind that would be a great fit for the role. And you know how best to approach them.
This ultimately saves time throughout the process and reduces the chance of a bad hire.
4. You're not defining what you really need
When someone in your team leaves, there's normally a reason behind it. It could be that in reality, the role wasn't quite as advertised, or it could be that someone with a different range of skills would be better suited to the position.
So when you just dig out the same job description from when you hired that person and repost it in the same place – it's quite easy to imagine that six months down the line, the same thing might happen again.
Instead, think about what the role requires and how the reality might differ from the current job description.
Use exit interviews as an opportunity to find out what these differences may be. Employees tend to be very honest when they are departing, so ask for open feedback on why they're leaving.
Do you need to change the person you're looking for? Or has the job changed? It's possible that a particular element of the job stood out as being more important or a certain skill is needed as a priority.
By clearly defining your needs – you can ensure that you hire the right person for the job. This not only reduces staff turnover rates, but also increases employee happiness and engagement as they are actually getting what they signed up for.
5. You're not offering enough benefits
Whether it's remote working leading to employees no longer being restricted by location, or more specialised roles meaning that companies are fighting for smaller pools of talent – the ball is in the employees court. They hold a lot of the cards.
This means that as an employer, you have to offer more exciting benefits than your competitors.
There's no question that employees have come to expect more than just a basic salary. To attract new employees, and to keep your current employees from jumping ship, you need to have an exciting and up to date benefits offering.
To ensure you're offering benefits that are attractive to your prospective employees – find out what your competitors are offering to see the industry benchmark. You can also go one step further and survey your current employees to see what they'd like to see on offer.
Benefits can include a whole range of things, from shopping discounts, to health and wellbeing benefits, to free car parking.
Take a look at Perkbox's range to find out more about what you could be offering your employees - as when you're able to shout about your exciting benefits, you can show potential and current employees just how much you value them.
6. You aren't covering all bases in the interview process
While there might be a sea of people who could technically do the role, a strong talent acquisition team wants to see more than this.
It's beneficial to work with the hiring manager to identify the main tasks and KPIs of the position. With these in mind, you'll be able to find out if the employee is capable or has any past experience of succeeding in such tasks, rather than simply having the skills on paper.
But it's often hard to discover skill and personality matches through interviews alone. There's a range of different tools that can help you to gain a more well-rounded view of your candidates. Psychometric or personality tests can help to find out if the candidate's competencies and priorities match those of the company and their potential department.
When you cover all bases in the recruitment process – both the company and the candidate are less likely to have any surprises down the line, leading to greater long term success.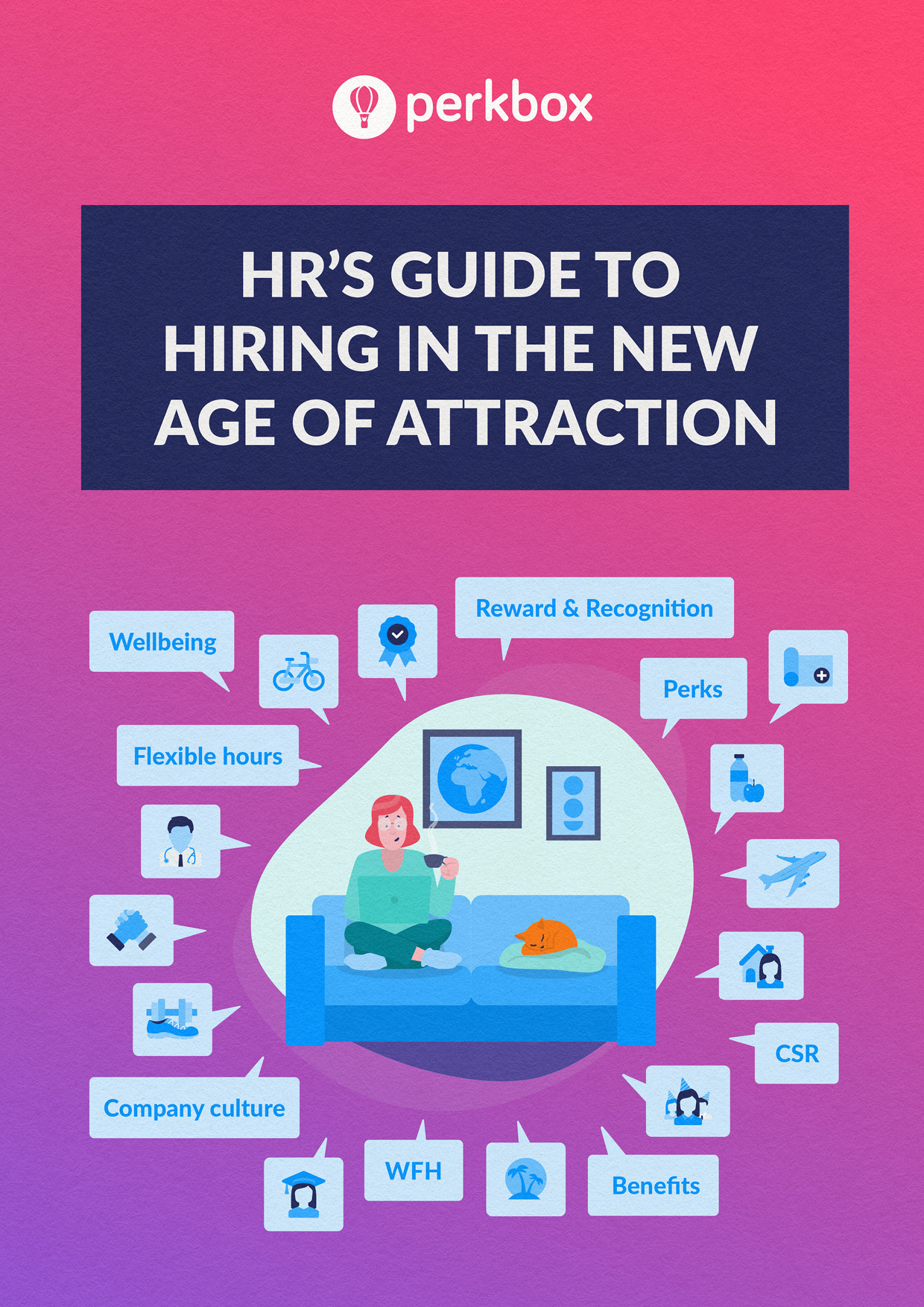 Featured resource
Get your guide to hiring in the new age of attraction
Put yourself at the front of the queue for top talent.
In this ebook, we'll look at what the modern employee now wants and what your talent attraction strategy should focus on.
Care for, connect with and celebrate your employees
Provide free perks and over 4,000 discounts
Recognise and reward employees
Give access to curated wellbeing content
Centralise company updates and benefits