Get everyone involved
Recognition from your peers can be just as meaningful as praise from your boss.
Our employee recognition scheme lets everyone send shout-outs, encouraging a true culture of reward and recognition and ensuring no one feels left out.

Start a little competition
Polls are a great way for employees to champion their colleagues and give everyone something to work towards.
Anyone can create a poll on Recognition and the whole team can vote for the winner.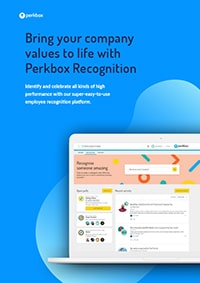 Learn how bring your company values to life with Recognition
Looking for a quick summary? Download our Recognition brochure for an overview of the benefits we can offer your team.
Celebrate milestones
Some events are worth shouting about.
That's why Recognition lets you add celebrations to your posts – so you can recognise birthdays, anniversaries, weddings and more.

Reward incredible work
Recognition gives you more than 50 rewards at your fingertips, making it easy to incentivise great work.
Choose from some of the UK's biggest brands and give your employees the rewards they actually want.

Live your company values
Make sure your team's pulling in the same direction by adding your company values.
You can assign a value to any reward or recognition you send, helping everyone understand how their actions help drive the business forward.

Start building a culture of reward and recognition
Peer-to-peer recognition
Start company polls
Reward employees
Perkbox is the only all-in-one employee experience platform
Learn more about how we help businesses build their employee experience with: