Drive engagement with meaningful employee recognition programs
Having a strong reward and recognition culture can have a huge impact on not only how your employees perform, but how engaged they are. This contributes to employee satisfaction and retention.
66%
of employees believe rewards would increase loyalty¹
60%
of best-in-class organisations stated that employee recognition is extremely valuable in driving individual performance²
63%
of employees who are recognised are very unlikely to look for a new job³
Personalised recognition and employee rewards that increase motivation and engagement
With Celebration hub, everyone gets involved in recognising great work.
Get your whole business to celebrate achievements, milestones and the people behind them, no matter where they are based
Link recognitions to values to emphasise what your company stands for
Create custom employee rewards to give something meaningful to the recipients
Celebrate star performers and increase company-wide engagement using polls




Celebration and recognition
Beyond manager to employee recognition
Give every employee the ability to celebrate their colleagues, wherever they are located, ensuring no-one feels left out.
Enable any employee to shout out to their colleagues to celebrate them and comment on recognitions sent to others, guaranteeing to make someone's day and create stronger relationships
Choose the types of achievements and milestones you want people to be recognised for, whether work related or personal

Company values
Linking recognition to what matters to your business
Help everyone understand how their actions help drive your business forward.
Add your company values to the Celebration hub to ensure every recognition ties back to what your business stands for
When an employee sends a recognition, they will be able to select what specific company value their colleague's achievement is linked to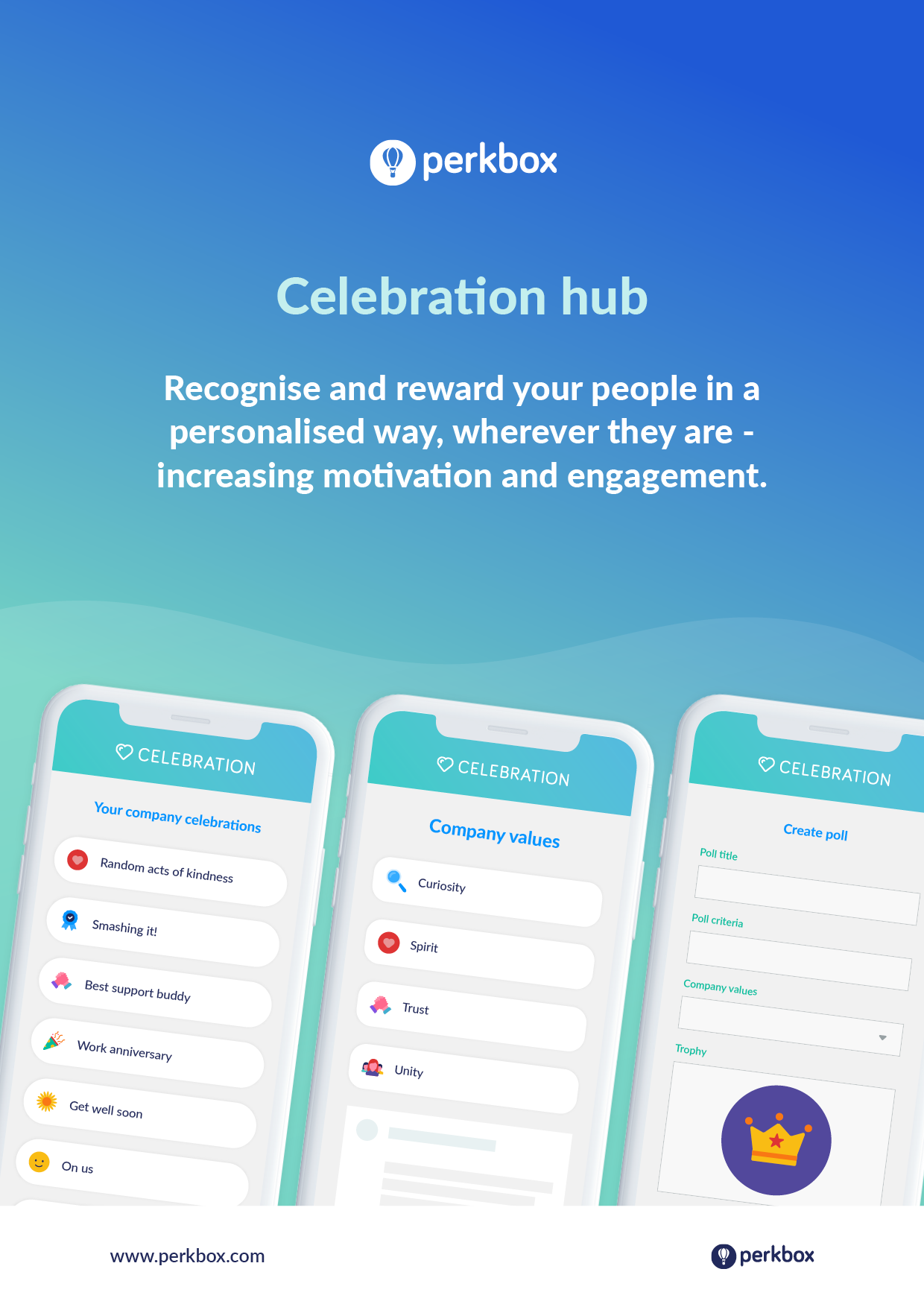 Featured brochure
Get an overview of Celebration hub
Recognise and reward your people in a personalised way, wherever they are – increasing motivation and engagement.
Team and company-wide polls
Start a little competition
Start a poll and get your employees involved, whether you're looking to find some work inspiration, start a healthy competition, or simply have some fun.
Create polls and get people voting
Get polls that suit your needs by either creating your own or selecting from one of our templates
Celebrate your company values further by tying them to your polls

Explore Perkbox
Learn how you can care for, connect with and celebrate your employees across the globe with: