Five remote working tips for Stress Awareness Month and beyond

Stress Awareness Month has taken on a new meaning this year, with many of us trying to juggle the stress of working remotely full time, with other responsibilities like childcare.

Long days spent at home and a lack of human contact can lead to feelings of anxiety and disconnect, but the good news is, there are lots of simple steps we can take to keep our stress levels in check. So, we spoke to some of our employees at Perkbox to get the inside scoop on what their stay at home stress busters are.
1. Create 'to-do' lists
Part of the problem with being at home all day is that it can be hard to stay self-motivated and productive. Before we know it, the day has passed and we haven't even paused to take stock of what we've achieved. This can leave employees feeling like they haven't accomplished anything at all – feeling stressed as a result.
Writing daily lists of what you want to achieve at work and around the house can be a quick win when it comes to staying productive. It also lets you carve out some time for self-care and trying new hobbies at home. Iona from our marketing team even goes as far as saying, "It's amazing what a simple to-do list can do for your routine and mood!"
2. Carve out break times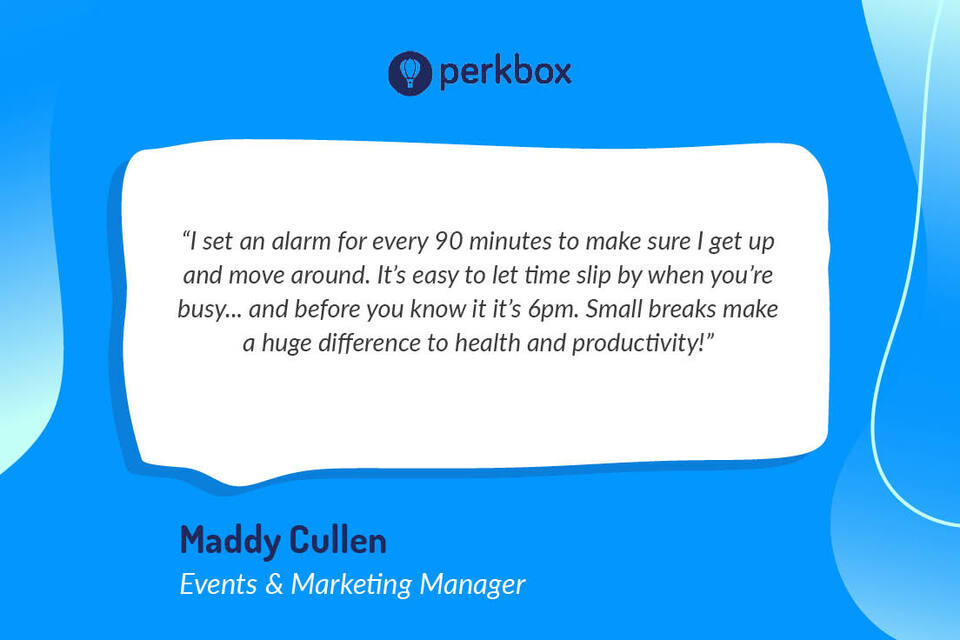 Often when working from home, we don't prioritise taking breaks as much as in the office. Maybe because taking a tea break alone isn't quite the same as taking one with your colleagues. Also, it can be easier to let time slip by when you're busy.
Why not set an alarm every 90 minutes? Research shows that humans naturally move from full focus and energy to physiological fatigue every 90 minutes. So getting up and moving around every 90 minutes can help you get back into your rhythm.
It could be as simple as making a cup of tea or doing some stretches. This is something that Maddy from the marketing team has been doing and it's worked wonders for her, saying that, "small breaks make a huge difference to my happiness and productivity!"
3. Leave your office set up at lunchtime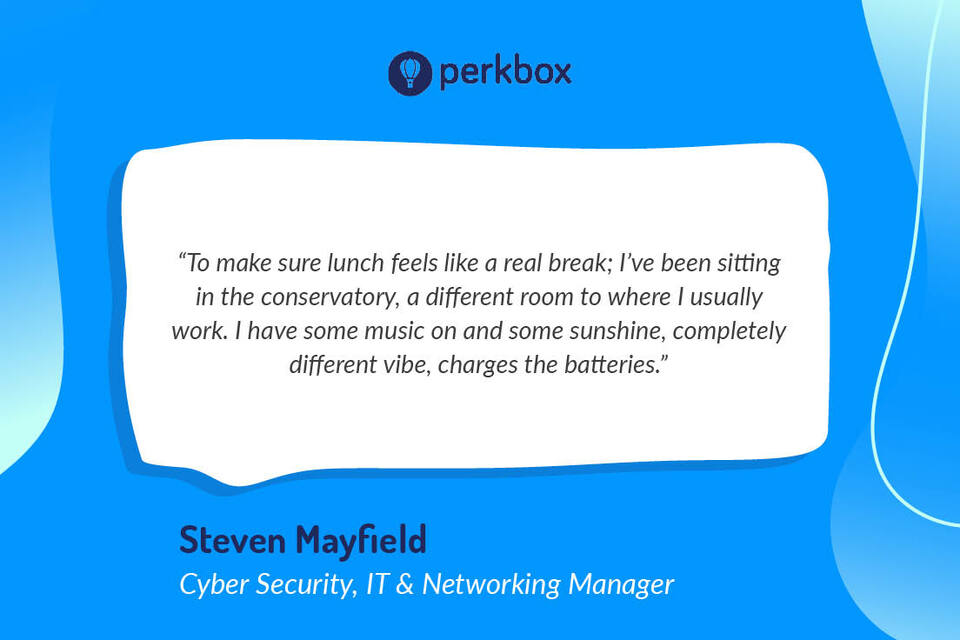 Taking a lunch break in a separate area to where you're working remotely is a stress reliever for a lot of our employees at Perkbox. Stay in the same place and we can risk not disconnecting from work at all during the day – leaving us feeling burnt out and stressed. Even if it's just stepping outside or moving to a different room, it can do wonders for your general mood!
Steven from the IT team suggests playing some music to recharge your batteries, while Laure from sales likes to get some sunshine if possible, either in her garden or by going for a short walk.
4. Don't forget to exercise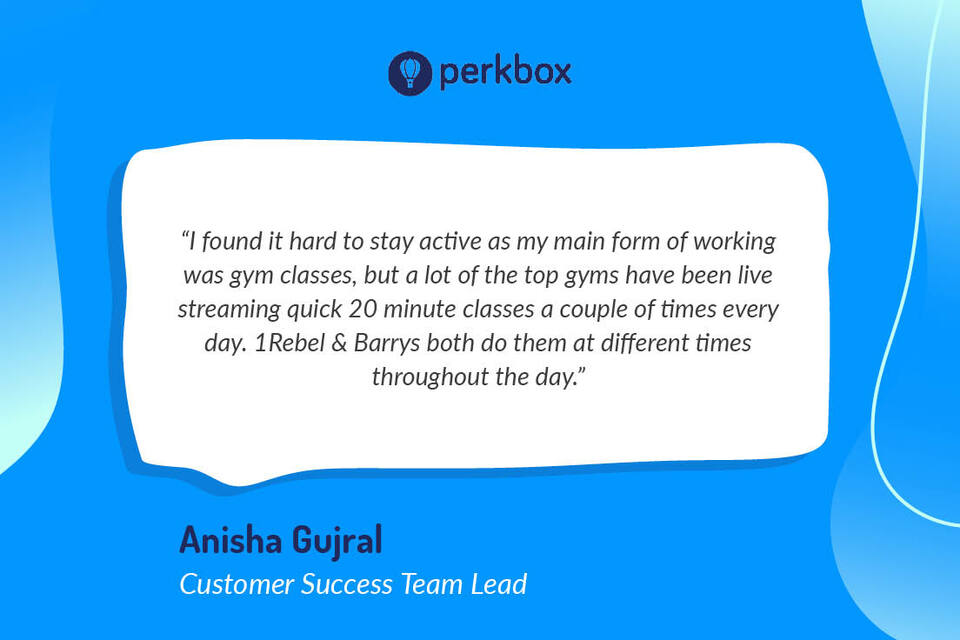 With gyms now closed across the UK, it's harder for many of us to motivate ourselves to exercise at home. But with exercise being proven as a great way to de-stress, it's more important than ever to fit in some time for exercise. So get moving and replace those stress hormones with some much welcome endorphins!
If you're struggling for inspiration, most gym and fitness class chains are doing virtual classes online, with some even offering live sessions so you can exercise in a group in real-time. This is something Anisha from the account management team has been making the most of, "I found it hard to stay active as my main form of working out was gym classes, but a lot of the top gyms have been live streaming quick 20-minute classes a couple of times every day."
5. Don't underestimate the value of a routine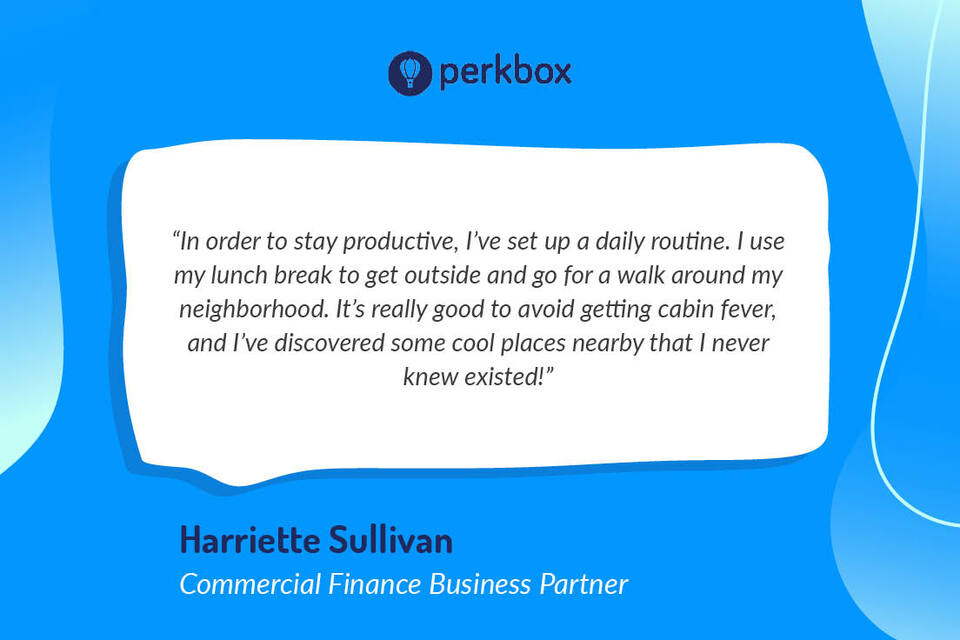 Finally, don't underestimate the positive effect maintaining a routine can have on your mental health. With many uncertainties in the current climate, creating a routine is something that we can have control over as individuals, reducing our stress levels as a result.
Ideally, this should include setting time aside to set goals for the day or week, eating healthily and carving out some time for exercise and fresh air if you're in a position to leave your house. Harriette from the finance department has created a new daily routine to help adapt to indefinitely remote working.
She says, "In order to stay productive, I've set up a daily routine. I use my lunch break to get outside and go for a walk around my neighbourhood. It's really good to avoid getting cabin fever, and I've discovered some cool places nearby that I never knew existed!"
So there you have it, five tips from Perkbox employees on how to improve your stress levels this month, even if it's from home. We hope they provide some inspiration!