Top tips to engage your employees this festive season
December is widely regarded as a key time for employee engagement. As a business, you want your people motivated to finish the year on a strong note, and looking forward to the next one. At the same time, it's important to create a fun festive culture. Let's face it, after the last 18 months, we all deserve a little bit of extra cheer this year!
Many businesses are aware of how important it is to engage their people at this time of year. But with all the things you're juggling, it can be easy for things to slip. Throw in the fact that so many people work remotely now, and it's become that little bit more difficult.
Allow us to help. In this article, we'll share some of our top tips for engaging people across locations during the festive period. Want some more ideas? Check out our recent in-depth guide: HR's 2021 Christmas Planner.
Strengthen relationships and cultural alignment
In many cases, this will be the first time in a couple of years that people can connect in-person during the festive season.
Many people will be looking forward to an end of year party, and it's good to tie yours in with your company culture and/or mission. This means that even if you have employees in multiple locations, who'll be attending different parties - they'll all get an experience which is unique to your organisation.
Some ideas include:
Having an internal awards ceremony
Arranging a themed event based around company strategy
Creating cocktails named after or linked to your company values
Hosting a talent show - you'd be surprised at how well discovering hidden talents brings people together!
Just as important are smaller events. Perhaps you could pair up teams who don't work together much - for example Marketing and IT - and give them a budget to have their own social gatherings.
Remember to cater for those who are working remotely, or uncomfortable with physical gatherings. One idea is to give teams a takeaway voucher so they can have a group call one evening to eat, drink and chat together.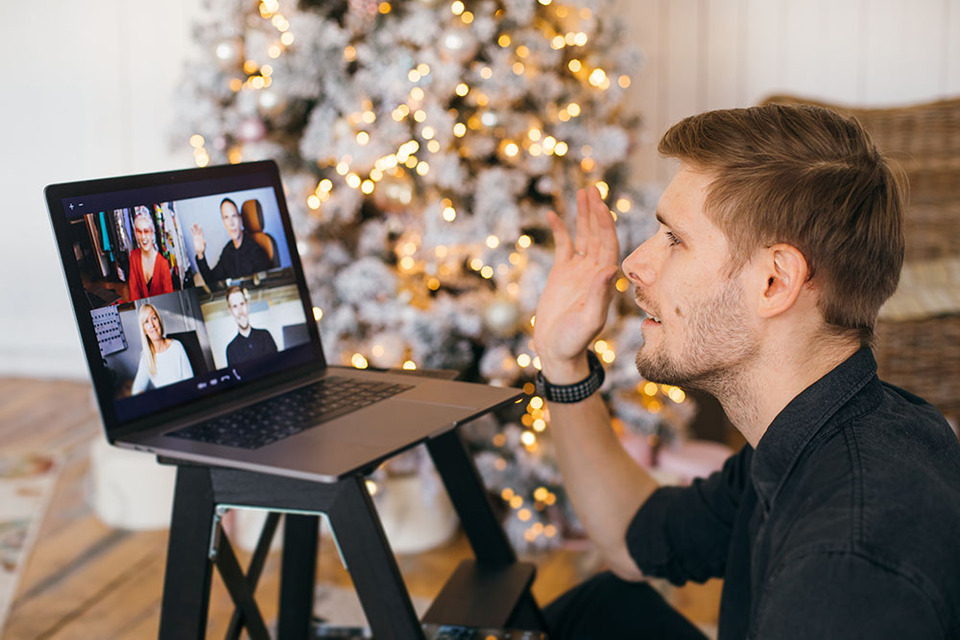 Get fun and festive
It's called the most wonderful time of the year for a reason. December is a month of fun, so feel free to think outside of the box and incorporate lots of games and activities into the working week. Some managers worry about the impact on productivity, but by making this an enjoyable time, you'll see the benefits of happy employees well beyond the festive season.
Here are a few options:
Have a Christmas movie afternoon. Get people to vote on their favourite festive film and set aside a couple of hours to watch together. For remote workers, maybe you could send them a movie rental voucher?
Create a competition to see who can decorate their desks the best. Have a separate one for those who work remotely, based on their home decorations!
Get everyone to send you their best festive one-liner and let all employees vote on the funniest. Maybe you can gift the winner a box of Christmas crackers?
Organise a festive cooking class - for those who are joining virtually, send them the recipe ahead of time
Another great way to connect people across locations is by organising a holiday season playlist. Ask people to add their favourite songs. Anybody can listen to them, even if the teams are miles apart!
Celebrate successes, big and small
The end of the year is a natural time to recognise everyone's efforts. This should be a priority for senior leaders, but also ensure that there are opportunities for employees at all levels to show their appreciation for each other. It shouldn't just be about work-related milestones either. Celebrate employees who've really embodied your culture and values.
Maybe you could create a recognition train - whoever gets recognised has to do the same for someone else. Start this off yourself, using whatever your method of recognition currently is. This can be done across locations and borders, so is an excellent way to engage everyone, regardless of where and how they work.
Other ways to celebrate include:
Creating an end of year summary of everything the business has achieved in 2021. This can be a short video or a jazzy PowerPoint – but if you want to be super creative, why not go for a high school yearbook type format?
Putting together a Christmas hamper and drop it on everyone's desks, or deliver it to your remote employees. Include a note of thanks from the CEO or MD.
Sending a personal note of appreciation to new starters who joined the business during the strange year that was 2021
Creating a virtual tree of thanks - get each individual to recognise one person who's really helped them this year
Take the time to shout out people for personal milestones too - have any of them got married, had a child or moved house? That extra personal touch can make a big difference when it comes to creating a culture of appreciation.
Remember your duty of care
Wellbeing is also an important part of employee engagement. Amongst the fun and festivities, it's worth noting that this can be a difficult month for some people. They may also be at greater risk of burnout, as they try to wrap up important projects by the end of the year.
Emphasise your commitment to caring for employees by keeping lines of communication open, as well as signposting them to useful wellbeing resources. Relevant ones during December tend to be ones related to burnout, anxiety and healthy living.
Here are some other ways to take care of your employees this month:
Create a wellbeing playlist of useful videos and podcasts and share with employees
Ask managers to be flexible with late starts, early finishes or extended lunch breaks - many people will have holiday errands to run and will appreciate this flexibility
Move non-essential meetings into the New Year, to help people focus on their core work in December and avoid burnout
Bring in an office masseuse to help people destress
Extend any lifestyle benefits to employees' families for the month of December, to ease financial wellbeing worries
Hopefully these tips will save you a bit of time during this all-action month, and most importantly, help you keep your people happy and motivated. A fully engaged workforce in December is one that's likely to come back even stronger in 2022.