Why millennials will love Cardlink
Millennials know the feeling. You work hard and do your best to save money. But you also know the odd indulgence is essential if you don't want adult life to drive you absolutely bonkers. And yet we're often portrayed as the lazy generation, unprepared for the real world.
In anticipation of Perkbox's brand new Cardlink feature, we ran a survey on millennial spending habits. Most adults have a guilty pleasure but on the most part, we probably try to stay sensible.
It was so refreshing to see this reflected in the survey results, with a whopping eight out of 10 millennials stating that they're good with money. Some 70% of us already belong to loyalty programmes, enjoying benefits from an average of 4.8 brands. You tell 'em guys!
But card-linking technology isn't just for millennials. Far from it. It's for anyone who wants a fast and satisfying way to save money.

What is Cardlink?
Here's how it works: customers link their credit or debit cards to a brand they shop with regularly. Card-linking schemes can differ significantly, but you can expect to get personalised offers when you shop at selected brands using your linked card.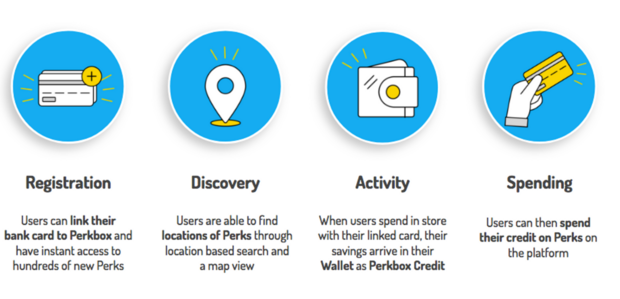 Perkbox's offering will work in the same way. Users will only have to link their card to our online platform once. They won't have to change their shopping habits, but they will make instant savings when they use their card at thousands of local businesses across the UK.
These savings will be stored in their Perkbox wallet, which they can access on the website or app. Users can spend these savings as credit on their favourite perks. In the very near future, users will be able to redeem their savings for cash!
3 reasons why people love cardlink technology
1. Saving feels good
According to our survey, millennials spend an astounding 41% of their income on rent or mortgage and bills. Another £160.71 goes on food and groceries every month – that comes to £1,928.52 a year! So it's fair to say every penny counts.
Luckily, saving comes more naturally to us than our parents might expect. Before making a purchase, we'll spend an average of 25 minutes looking for a better price. As a millennial who frequently hovers around the reduced section in Tesco, I can confirm those yellow stickers attract shoppers of all ages.
So as you can imagine, the effortless savings to be made with Cardlink are sure to appeal to the savvy millennial. Not to mention, when Perkbox users redeem their credit on their favourite perks – like special price cinema tickets – they'll save twice!
2. It's a win for local businesses
Almost a third (32%) of millennials told us they'd rather receive a voucher for a high street retailer, but a chunky 30% said they'd rather support the businesses in their area. Many of the brands participating with us are local ones, giving them a way to increase footfall and reward loyal customers.
3. It's paperless
Unless you need something to spit your gum into at a moment's notice, paper vouchers are annoying to keep hold of. Cardlink allows you to nab savings with the swipe of a card, making saving so easy you might forget you're doing it.
As well as being more convenient, a paperless system is much better for the environment. And you know how much us millennials love the four Rs. Yes, there's four...