Employee appreciation and recognition are essential in any workplace. We dedicate a lot of our time and energy into our professional lives, and everyone wants to feel appreciated at the end of the day. In order to make recognition a priority, many companies choose to implement employee recognition programmes.
Recognising and rewarding deserving employees is truly a win-win situation. It's important because of the positive effects it has on both employees and the overall work environment. Some of these undeniable benefits include:
Having a healthy, supportive work environment
Boosted employee morale
Improved employee retention rates and company loyalty
Reduced staff turnover
Increased employee engagement
Improved interpersonal dynamics
Strengthened company core values
Reinforcement of good behaviour
Affirmation that employees are doing a good job
Making employees feel appreciated and valued
All of these results sound great, but you might be wondering how you can actually implement a recognition program in your business. To help you on your journey, we've assembled a list of ten tried and tested appreciation ideas and employee recognition programs in this article. Take a browse and consider whether any of them would align with your work environment.
We've also written a series of recognition message templates that you can use for free. Should you want to express your appreciation and gratitude to a colleague, copy one of our templates, edit it to suit your needs, and send it along. You'll be sure to put a smile on their face.
What should team members be recognised for?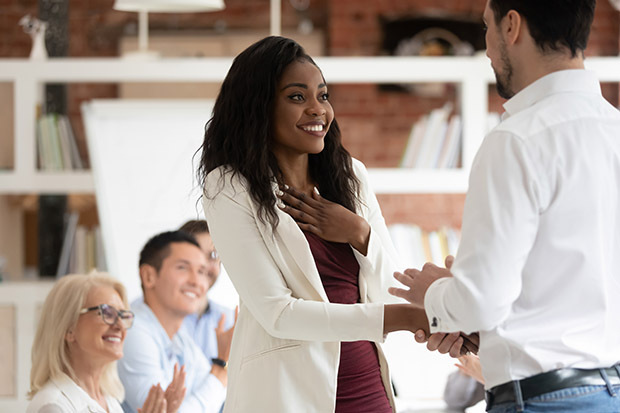 There are many things that deserve recognition, reinforcement, and praise in the workplace. This is by no means an exhaustive list, but some examples include:
Quality of work
Adaptability
Personal initiative
Attitude or being a team player
Improvement, personal growth or willingness to learn
Performance (general or with regards to a specific project or task)
Leadership
Milestones (work anniversaries, promotions, etc.)
Professional development achievements
Problem solving
Objective success (high sales, landing an important new client, etc.)
Individual employee recognition examples
To help get your creative juices flowing, we've assembled ten great employee recognition examples to get you inspired. We've selected programmes from a variety of companies all around the world, so you'll get a diverse sample of great company's initiatives.
If you're looking for an employee recognition tool to save you time, check out our list of 20 Essential HR Tools for Busy HR Professionals.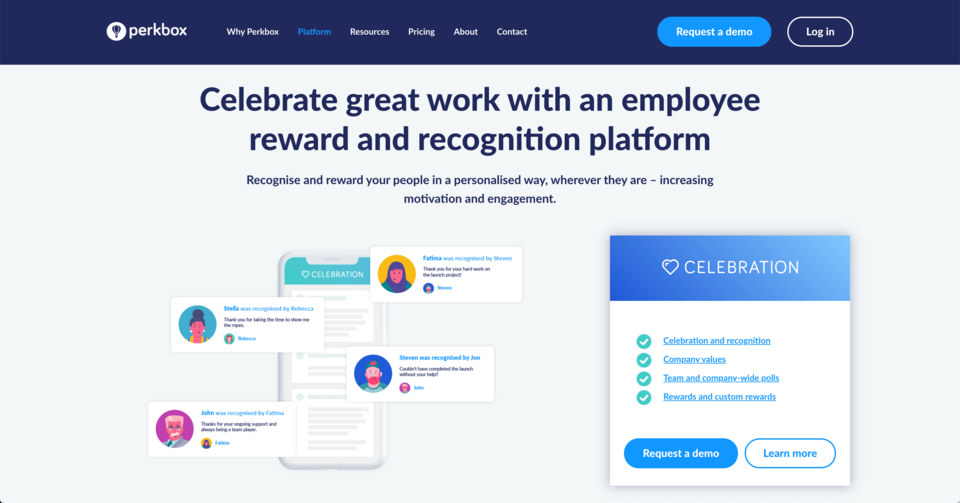 At Perkbox, we pride ourselves on our innovative platform and often use the Celebration hub to let our teams know they're doing a great job. Sending recognition creates a culture of celebration and shows our people we value their efforts and can-do attitude. With our employee recognition platform, you can even celebrate borderless employees!
However, The Celebration hub isn't just about recognition and offers so much more. Other features include:
Company values. Add company values each time you send a colleague recognition, for example, they may have shared a brilliant idea that demonstrated your value 'curiosity'.
Team and company-wide polls. Create a poll to encourage some healthy competition or stimulate creative thinking. Employers can also use polls to drive learning-based initiatives, such as voting on topics for a guest speaker.
Global Rewards. Reward your teams when they do a great job. Our Global Rewards allow you to give your employees the ability to choose rewards that are meaningful to them, wherever they are.
Custom Rewards. Treat your employee who has gone the extra mile to something special. Custom rewards don't have to be monetary and can be an extra duvet day, for example.
Other occasions to recognise
The Celebration hub is a versatile employee recognition tool and teams can use it to recognise personal milestones, such as weddings and birthdays. In fact, what people celebrate is completely up to them, which is what makes the Celebration hub special.