20 employee wellbeing initiatives to implement at work
The average British worker spends about 34.5 hours in the workplace per week. That's nearly a third of their time during the workweek. It goes without saying that people's wellbeing while on the job has a big effect on their wellbeing overall.
What is employee wellbeing?
Employee wellbeing is a term that describes how a person's job affects their overall health and happiness. When an organisation prioritises wellbeing, their teams are likely happier and experience less stress.
Several factors contribute to an employee's wellbeing and they can include:
Physical health
Emotional health
Financial health
Psychological wellbeing
Social wellbeing
It's important to keep in mind that employee wellbeing touches on all aspects of working life, consequently it has a significant impact on retention, engagement, and business success.
Why is employee wellbeing important?
Wellbeing gifts for staff can take many forms, all of them worth it. Taking care of your employees' wellbeing is incredibly important and every organisation should make wellbeing a core element of their HR strategy.
When people are happy and healthy at work they're more productive and take fewer sick days.
Furthermore, with an increasing number of people taking time off to recover from stress, anxiety, and depression, prioritising your teams' health and happiness has never been more important.
Creating a workplace environment that your people love, will not only protect their wellbeing but also strengthen your company culture. When people enjoy their work, their positive can-do attitude influences others, which in turn promotes business success. Whether an employee is achieving great successes or taking a long time off after turning in a sick note for bereavement, their wellbeing should be top priority.
The benefits of workplace wellbeing initiatives
With some brainstorming, creativity, and an employee experience solution, you can come up with - and implement - a variety of remote and office wellbeing programmes in your organisation that will have a big impact on all of your employees' lives.
The biggest reward arising from wellbeing initiatives is a healthy and happy workforce. They also bring about exciting results like:
Improved morale, productivity, and motivation
Reduced presenteeism
A strong employee value proposition
Increased employee loyalty and retention
Benefits that will attract top talent in your field
How to improve your employees' wellbeing at work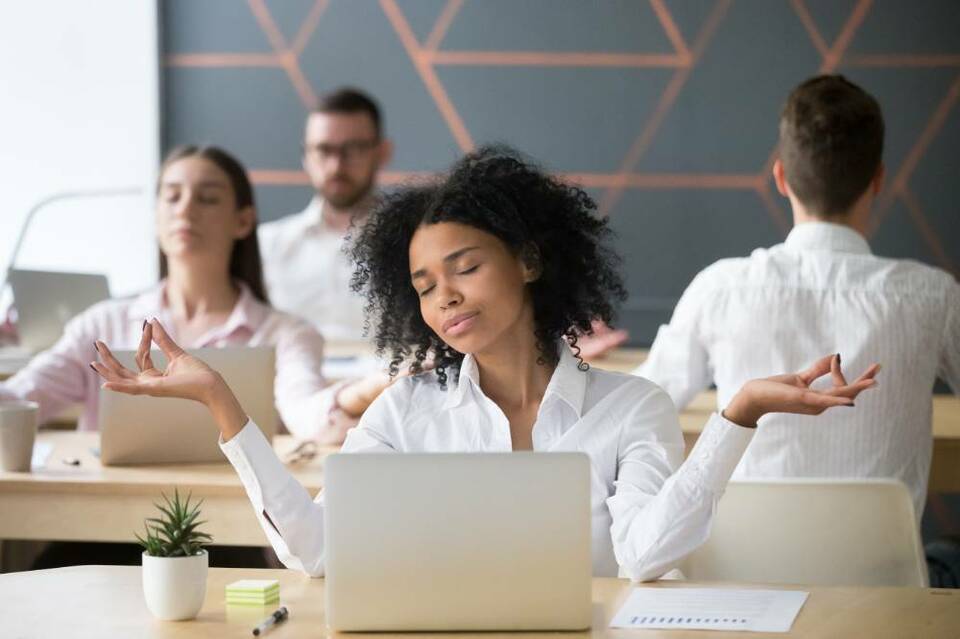 When investing in your employees' wellbeing at work, you may find allocating a budget challenging. Fortunately, there are plenty of health and wellbeing initiatives that meet the needs of small and large businesses alike. Additionally, workplace mental health initiatives often produce a positive return on investment (ROI).
20 office wellbeing ideas
It's easy to feel overwhelmed when brainstorming wellbeing ideas for staff. After all, there are so many options. So, for this reason, we've organised our favourite ideas into five categories, so you can easily spot which ones are most suitable for your organisation.