15 best employee engagement software platforms for productivity in 2022
Every business wants a highly engaged workforce. They're happier, more productive and more loyal. Luckily, there's plenty of software that can help you create that recipe for success.
There's something out there for every industry, budget, and niche. However, the sheer choice can be a little daunting, so in order to help you to determine the best employee engagement platform for your needs, we've broken down our top 15 picks in this article.
As an added bonus, we've also discussed why we at Perkbox think that employee engagement software is a must for every modern workplace.
We've split the software into four categories: recognition, wellness, employee engagement surveys, and perks. Keep reading to discover which one aligns best with your business.
The top 15 employee engagement software
Recognition
1. Perkbox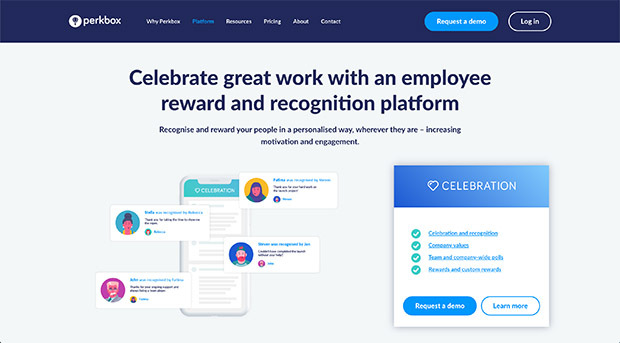 Perkbox is a fantastic all-around employee experience platform that's guaranteed to help take your engagement up a notch. Our platform is made up of multiple employee engagement solutions, but here we're going to be talking about our recognition tools.
If you're looking to motivate employees with rewards and recognition, Perkbox is the perfect tool for you. Our goal is to make employee recognition anything but boring by offering exciting activities and rewards that people actually want.
We offer a variety of different ways for every employee on your team to be congratulated for a job well done, including:
Employee-to-employee recognition with shoutouts, which creates an engaged and enthusiastic company culture.
Company polls that kick off a little healthy competition as employees vote for colleagues who deserve recognition.
Milestone celebrations on birthdays, anniversaries, life events, and more.
An array of employee rewards, chosen from over 50 of the UK's biggest brands.
Custom company values, which can be assigned to any reward or recognition you give out.
Perkbox customises the offerings and pricing according to your business's needs, so we're a great choice for companies of any size. Click here to request a free demo without any strings attached.
2. Bonusly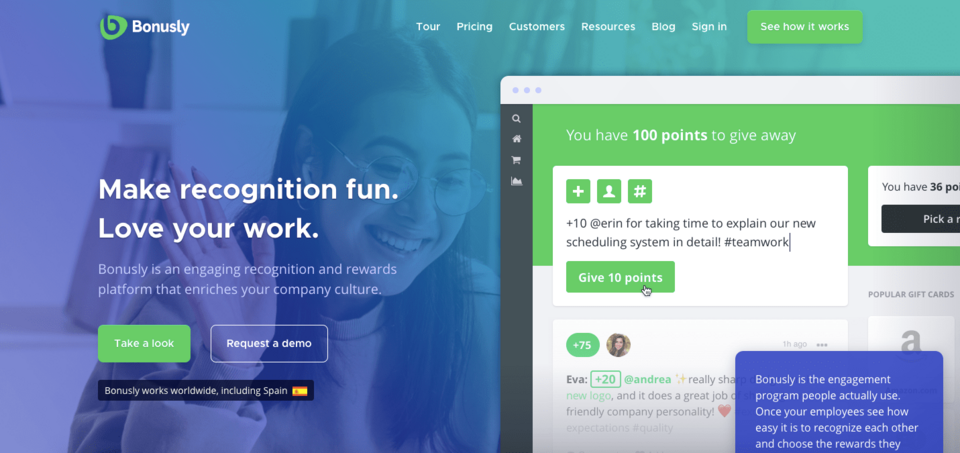 Bonusly is another great human resources platform that makes it easy to engage with and recognise employees. Whether you're an executive, a manager, or a junior colleague, Bonusly provides a solution to celebrate the work happening around you.
Bonusly works by rewarding employees with points. Once someone receives enough points, they can redeem them for a meaningful reward of their choice. They've got a global catalogue filled with digital gift cards from brands in over 122 countries worldwide, so there's truly something for everyone. Some of the most popular examples include:
Amazon
Spotify
Deliveroo
Nike
Ikea
Additionally, the software allows points to be cashed out through PayPal or donated to non-profit organisations like the WWF, Habitat for Humanity, and The Trevor Project, which we think is a great touch.
Employees earn points via peer recognition they receive from their colleagues. Each month, employees also receive a small monthly allowance of points that they can reward to others by using Bonusly's easy to navigate interface.
3. Gifted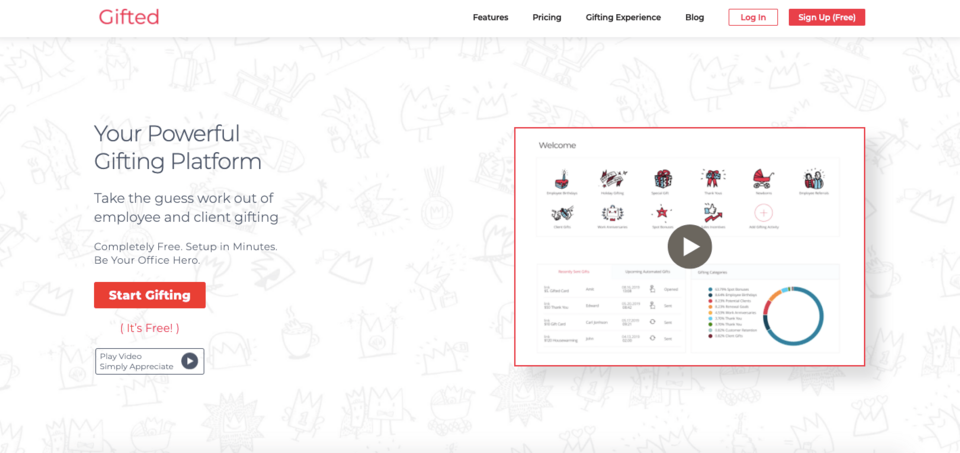 As you can probably tell from the name, Gifted is an employee engagement software that's all about... gifting! It helps companies send out the perfect gifts for every occasion, whether they're being given to employees or clients. It achieves this by providing a fully branded gifting platform that's sleek, easy to use, and downright handy.
Here are some of the Gifted features that we're loving:
Customised gifts. Personalise the message that goes along with your gift (or choose from a template), select a graphic (or upload your own), and allow the recipient to choose the gift they want from a wide selection of retailers.
Reporting features. You can have all expenses and financial information sent directly to accounting, resend gifts without a problem, view which gifts were the most popular, and lots more.
Automated gifting. Never forget another employee milestone again! You can set up gifts to go out automatically on specific days, or activate reminders for yourself.
Best of all, Gifted is a free employee engagement software. All you have to do is pay for the gifts you choose.
4. Blueboard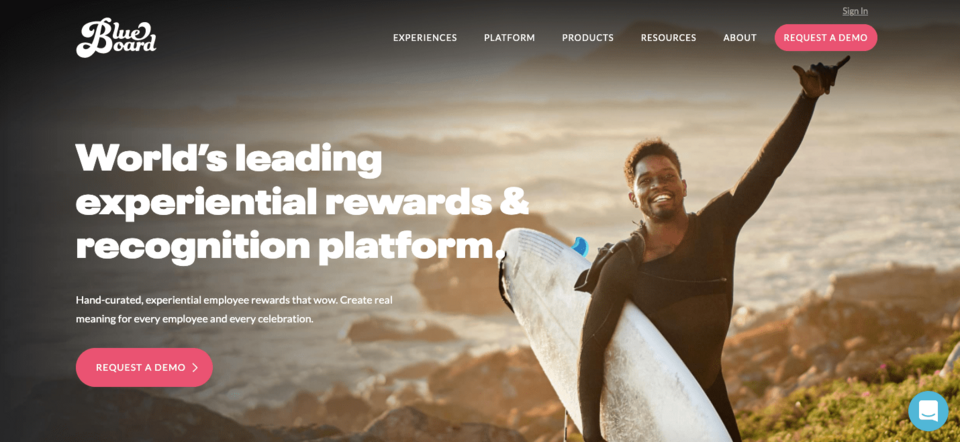 Our last tip for employee recognition solutions is Blueboard. They are one of the employee apps that has truly taken a different approach to how they congratulate employees for a job well done. Rather than using more tried-and-tested methods such as points, gift cards, and other virtual gifts - they offer experiences.
All you have to do is send a lucky employee a Blueboard reward (either manually or automatically). Then, they can browse through their experience options and select the one that jumps out at them the most. All the logistics and planning will be taken care of by Blueboard, so all they have to do from there is get ready for a truly memorable experience.
Blueboard serves over 70 countries globally and is working with over 300 enterprise clients. Some of their unique reward options include:
Zero gravity float therapy
Houseboating weekend trips
Scuba diving certification
Paragliding
Ziplining
Ice cave exploring
With such a wide variety of interesting, special experiences on their list, there's an experience to suit everyone's tastes.
Wellness
5. Perkbox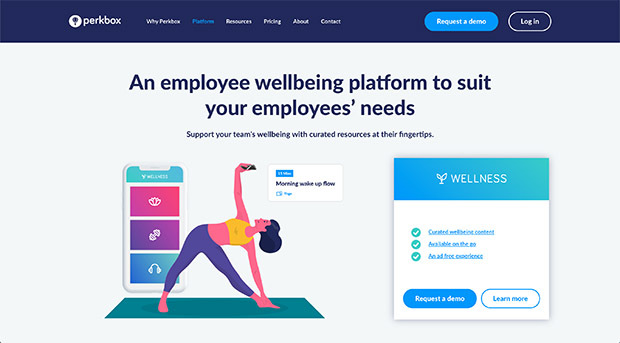 Your teams' health and wellbeing should be your top priority regardless of where they work, be it remotely or in the office.
When companies provide additional wellbeing resources for their employees it reduces absenteeism and boosts productivity. In other words, it's essential to overall business success.
Content within the Wellness hub is available 24/7 from a smartphone, tablet, and laptop and includes:
Workout videos: From cardio to strength training, our workout videos cater to a range of abilities to make staying active easier.
Guided meditations: Give your employees the opportunity to wind down after a busy day with a carefully curated selection of guided meditations.
Yoga videos: Help your teams experience the holistic benefits of Yoga, with on-demand yoga classes that will benefit their mental and physical health.
Sleep stories: Getting enough sleep is essential for your peoples' health, and sleep stories will help them experience better quality sleep.
Hypnosis audios: Employees can listen to hypnosis audios to clear their minds and relieve stress.
Overall, healthy employees are happier, more engaged, and loyal. If you want to learn more about Perkbox, you can request a free demo here.
6. Unmind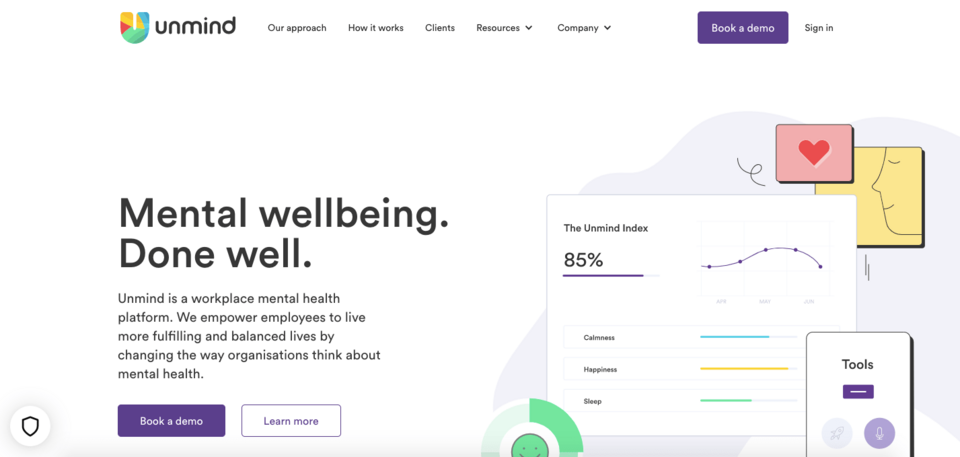 Unmind is a human resources tool and mental health platform that touches on all aspects of employee wellbeing. They've created their employee engagement platform because they recognise the value in prioritising mental health in the workplace.
Since one in six employees experience mental health issues each year, they dedicate themselves to focusing on all employees' mental health. This helps prevent problems before they arise, leading to better results for everyone involved.
Unmind improve employee mental wellbeing with a host of features:
Self-guided programmes: These include interactive courses on everything from sleep, to relationships, to anxiety. They're easy to access and follow, so can be completed at your employees' convenience.
In-the-moment exercises that give your employees' everyday wellbeing a boost whenever they need it. They range from mindfulness meditations, to sleep melodies, to yoga classes and even healthy recipes!
Mental health check-ins and assessments. Unmind gives users insights into the state of their own mental health in a variety of ways. Think mood diaries, employee surveys, and questionnaires that produce actionable insights and helpful, customised tips.
Personalised compliments. When you notice a colleague doing something great, why not let them know? With Unmind's praise feature, you can send them a customised message. This has a positive effect on their mental health.
Useful resources. You never know how your employees may feel at a given moment, so it's important they have access to help at their fingertips. Unmind helps you provide them with confidential resources like healthcare providers and 24/7 helplines should they need them.
7. Grokker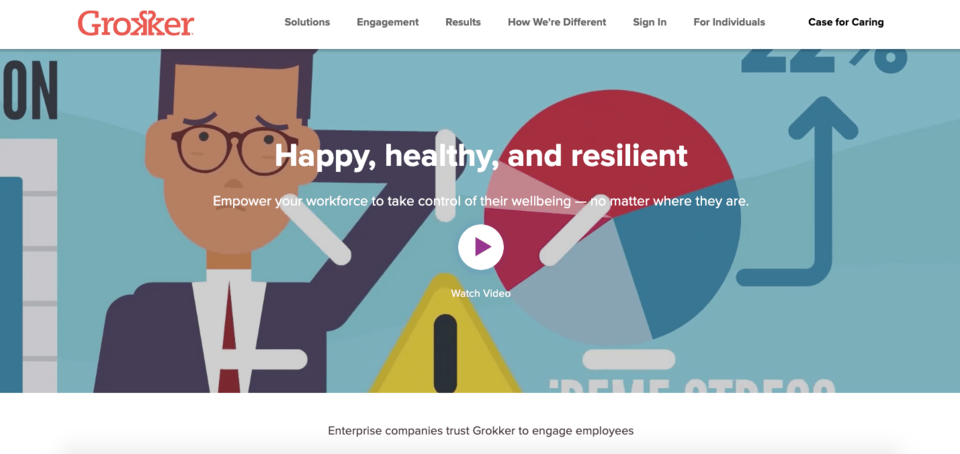 Grokker is certainly one of the best employee engagement tools out there. They aim to help companies nurture workforces that are happy, healthy, and resilient. Their platform is a great way to approach staff wellbeing within your organisation because it can easily be integrated into an existing wellness program, or used as a standalone solution.
Grokkers has five key pillars of health engagement:
Personalisation: In order to maximise employee engagement and satisfaction, offerings should be customised. This can be according to their health and wellness goals, topic preferences, skill levels, availability, and past engagement.
Video: Video content is one of the most popular and widely-consumed forms of media out there. It's effective and enjoyable across the board.
Expert guidance. Give your employees access to help from wellbeing professionals like personal trainers, health coaches, nutritionists, psychologists and financial planners.
Motivation. It's not always easy to find the motivation to live a healthy lifestyle. You can help employees get inspired and enthused with engagement challenges, healthy competitions, incentives and prompts.
Community. If you really want your wellness programme to drive engagement and boost employee morale, it's worth creating a thriving community. Grokker provides the perfect environment for this, with communication tools, access to experts, as well as Q&A formats.
8. Woliba
Woliba is a very well-rounded choice for employee engagement software. Not only does it cover employee wellness and wellbeing, but it also includes features related to general employee engagement, recognition, and rewards. Employers can access one platform to manage all their programmes and initiatives.
Let's break down their features in a little more detail:
Recognition: Employees can easily send shout-outs to their fellow colleagues, while managers can highlight top performers.
Rewards: Congratulate and engage employees by rewarding them with points across Woliba's entire platform. They can then redeem those points for rewards.
Wellness: Offer employees a personalised wellness experience complete with daily tips, wellness videos, health resources, quizzes, and lots more.
Engagement: Maintain an engaged workforce with survey tools and an admin dashboard that offers performance data, analytics, reports, and continuous feedback.
9. Limeade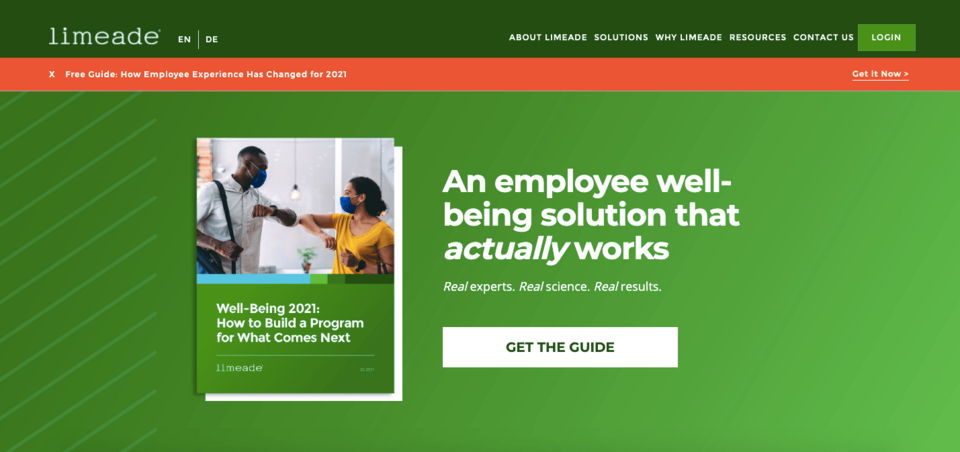 To finish off this category, Limeade is another good option for employee engagement software. Their platform is all about promoting employee wellbeing through solutions that are tried-and-tested and grounded in science. Their platform is separated into three sections: wellbeing, engagement, and inclusion.
Let's dive a little deeper into how they keep employees engaged:
Wellbeing: The Limeade wellbeing platform provides wellness-focused programmes and activities and creates connections through social sharing and challenges. It also provides admins with real-time reports and insights.
Engagement: Increase employee engagement by fostering internal communications, creating a sense of community, and encouraging meaningful interactions.
Inclusion: Limeade understands the power of a diverse workplace and helps HR teams create and maintain them. They achieve this by offering actionable inclusion strategies, powerful insights, and data-driven recommendations.
Employee engagement surveys
10. Connecteam
If you work in an HR department, you've probably heard of Connecteam before. It goes much further than simply offering an engagement survey or two though. Their engagement software allows businesses to manage all their employees in one central place, offering features for everything from time management, to daily operations, to internal communications.
Nevertheless, we'd like to feature Connecteam's use of the engagement survey for the purposes of this article. The way they weave it into their programme is truly unique and unlike much of what's currently available on the market. Basically, they prioritise employee communication by helping companies use honest feedback to make the best possible decisions for their business. They do so with the following employee feedback features:
Organisational surveys and live polls
Suggestion boxes
Creation of structured channels so employees can contact HR or management when necessary
Corporate social network creation by posting company news and announcements, and getting feedback with comments, likes, and more.
11. WorkBuzz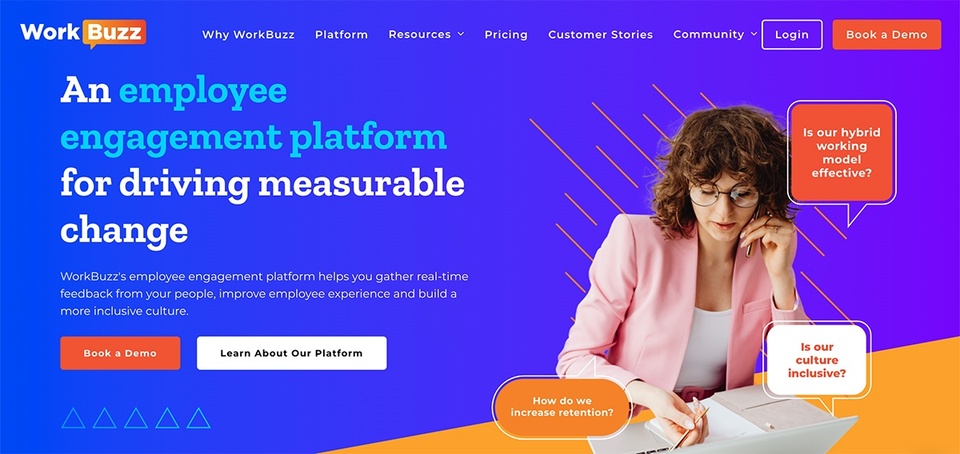 WorkBuzz is an incredibly dynamic employee engagement tool that helps you put data at the heart of your decision making so you can continuously focus on bettering your employee experience.
Its flexibility as a platform means it only takes a few minutes for you to launch an array of multi-language and mobile optimised surveys that are accessible to all of your employees, no matter where they are in the world.
Choose from a range of survey questions from the best practice question library that cover important topics, such as diversity, hybrid working, and wellbeing. After collecting feedback, you can see what factors are your biggest engagement drivers and any areas that would benefit from extra attention and care.
Because WorkBuzz includes intelligent features, such as customisable dashboards, it's never been easier for people managers to track the data they're interested in and take meaningful action. Furthermore, WorkBuzz designed the dashboards with busy managers in mind, not data scientists, and have included advanced algorithms and text analytics so you don't have to spend hours reading vast amounts of raw feedback.
It doesn't matter if you're a small local business or global corporation WorkBuzz offers plans to suit every company, regardless of their size. Their pricing model is flexible and the amount you pay depends on the type of solution you want.
12. Typeform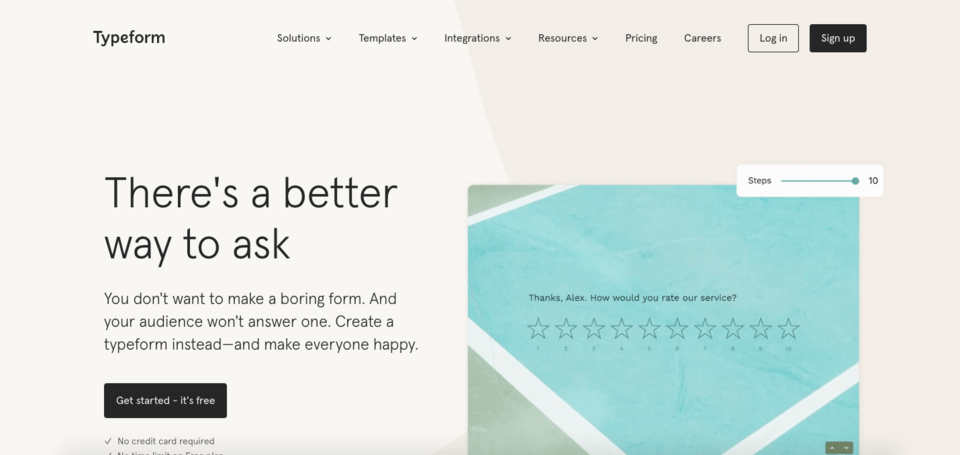 While Typeform is not technically an employee engagement software, it certainly holds its own against most platforms when it comes to engagement surveys. In fact, they're a company that's all about surveys. They specialise in helping people and businesses create and distribute surveys that are actually enjoyable to fill out. If that doesn't make them a perfect tool to measure employee engagement and development, we don't know what does!
If you're wondering how you can use Typeform to help with your human resources and employee engagement needs, all you have to do is browse through the HR section of their website. They've got HR survey templates for just about everything:
Employee engagement
Training satisfaction and employee development
Candidate feedback
Employee sentiment and morale
Reference requests
Suggestions
Self evaluation
...and those are just a few examples! Typeform also has a new feature called VideoAsk that you can use to create interactive video conversations that boost engagement with employees.
Perks
13. Perkbox
When it comes to perks, Perkbox is one of the best employee engagement systems out there. We have perk in our name, after all. We believe that engaging and treating employees with perks and other benefits is a win-win solution.
Employees are happier when they receive perks they can actually use, as it demonstrates you understand them as individuals. A good engagement system with plenty of perks keep turnover low, attracts top talent, and increases employee satisfaction.
Now, let's talk about the perks we offer. All of our perks sit within our Perks hub.
Perks. Treat your employees to over 1,000 discounts and perks from the UK's biggest brands, including Sainsbury's, Asos, and Deliveroo.
Flexi points. Give your employees a monthly allowance of Flexi points, which they can spend on whatever Flexi Perks they like.
Flexi Perks. Employees can choose from a range of Flexi Perks including a small treat, such as a coffee all the way up to an online therapy session.
Custom company benefits. Integrate your existing company benefits, for example, you can add free beers on a Friday under your Perks hub and keep all of your employees' perks and benefits in one place.
Card-linked perks. Employees can earn cashback on what they buy at selected shops, bars, and restaurants and then spend it on the Perkbox platform.
If you think Perkbox can enhance your current employee experience, request a free demo or get a quote today.
14. PerkNow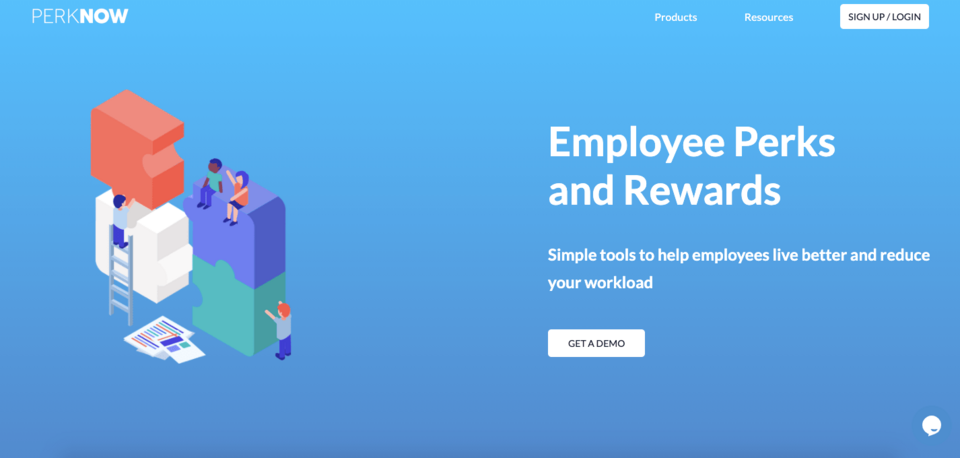 If you're an American company looking for a great way to engage employees by providing them with rewards and recognition, PerkNow is a great option for you. It's a very straightforward platform that's easy to use and is exclusively focused on employee rewards. Their platform is also easy to customise and can be accessed with a handy mobile app.
PerkNow offers hundreds of rewards and discounts that are both location-specific and national. Here's just some of the places they offer rewards at:
Disneyland
Airbnb
The NBA
Legoland
Marriott Resorts
Rewards are quick and easy to send, and you can even access usage reports to determine how many employees are using their benefits and how much money they're saving.
15. Perks At Work
Perks At Work is another great American company if you're looking for an employee engagement software to offer your workforce perks and rewards. They aim to provide employees with perks that help them live healthier lives.
Perks At Work's offerings go beyond typical discount codes and freebies. Their platform is separated into three unique categories:
Savings: Give employees access to over 30,000 local and national employee discounts. Even better, when you shop through Perks At Work, you earn WOW loyalty points you can redeem at a later date.
Community Online Academy: Give your employees the opportunity to follow both live and on-demand classes for kids and adults. Classes cover everything from wellness, to professional development, to more kid-friendly topics.
Personal Development: Get a suite of tools to build a high performance environment within your organisation.
FAQs about employee engagement software
What is employee engagement software?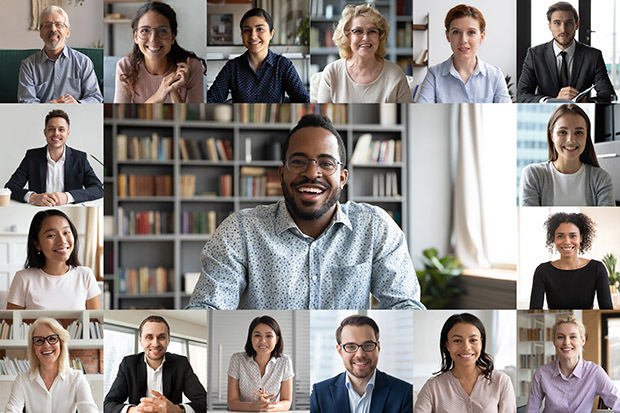 Employee engagement software is a type of HR software. At face value, employee engagement refers to how connected employees feel with regards to their workplace.
Businesses use employee engagement software to encourage a number of things from their employees. This includes engaging with their company culture, aligning themselves with its mission and values, promoting a sense of community, and enjoying themselves while doing so.
The best employee engagement software helps companies improve their overall performance. This is because businesses with excellent employee engagement are more profitable, have better employee retention, and see better performance throughout the entire employee lifecycle. Indeed, a 2017 study by The Engagement Institute reported that disengaged employees cost American companies as much as $550 billion each year.
Employee engagement software is usually offered as software as a service (SaaS). This makes it perfect for both remote and office-based teams as it can be accessed anywhere. With the rise of remote work and international teams, this is more important than ever.
There's a variety of employee engagement systems out there. Some of them are marketed as well-rounded solutions that have a variety of features, while others focus on specific facets of employee engagement like perks and rewards, wellness, recognition, and surveys.
Why use an employee engagement platform?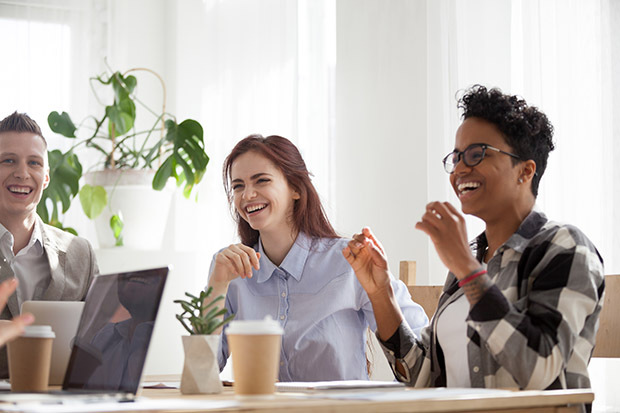 The benefits of employee engagement software are so vast it's difficult to list them. Nevertheless, here are our top three reasons why you should absolutely be using employee engagement systems.
1. Empower employees by giving them a voice
Employee engagement software is important because it gives your employees a voice and allows them to feel heard. No one can read minds, so employee engagement software is one of the best tools to get genuine insight into their opinions, likes, and dislikes. You might even be able to bring out parts of their personality you didn't know were there before.
Best of all, when you really listen to employees' voices, they'll feel more valued. In fact, employees who feel their voices are heard are 4.6x more likely to feel empowered to perform their best at work.
2. Enrich your company culture and create community
Employee engagement software can enrich your company culture in a variety of ways. Perhaps you want to create a company culture that revolves around recognition? Try a recognition solution. Want to give overall performance a boost? Gamification apps could be what you need. What about communication and team building? There's software for that too.
Whatever the case, engaged employees make for a great company culture and create healthy professional communities. This is essential to keep employees happy and enthusiastic.
When you have a rich company culture, your professional team will feel close-knit even if you all work remotely or rarely see each other face-to-face. Company culture is also a great asset in terms of recruiting and onboarding as new workers will feel like they're part of the team right away.
3. Increase employee retention
Last of all, employee engagement software has been shown to significantly increase employee retention in the long-term. This is because some of the biggest reasons why employees quit their jobs are closely related to engagement. According to a 2021 The Balance Careers report, the following are the biggest driving forces behind workers looking for new jobs:
Lack of management recognition
Poor relationships with coworkers
Bored and unchallenged by the work itself
Lack of contribution of their work to the organisation's business goals
...notice how all those driving forces can be easily addressed with employee engagement software?
Because employee engagement platforms allow employees to recognise each other, build relationships, get motivated, add a little extra something to their workday, and connect with higher-ups in their organisation, they help build workforces that people will want to stay in for the long haul.
Who uses employee engagement software?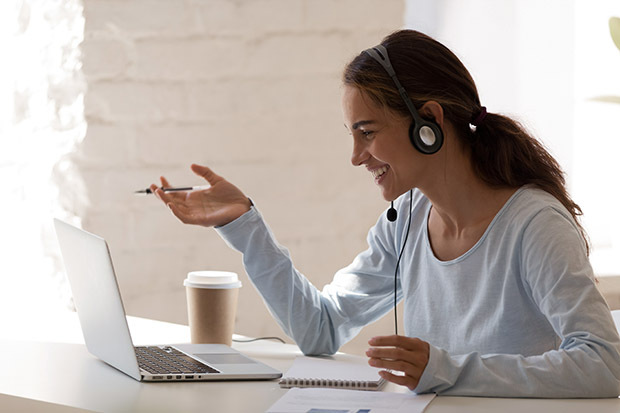 Companies from pretty much every industry use employee engagement software all around the world. As you've seen, their benefits are numerous and there's an option out there for everyone, no matter what kind of business you work in.
Management staff and human resources professionals are usually responsible for deciding what kind of employee engagement platform best suits their teams' needs. However, no employee engagement app can be successful if the key people aren't on board. That means everyone on your professional team should be using it.
Employee engagement software is especially important for remote teams (or companies with some degree of remote work) as well as teams that work across different time zones. This is because they don't have the same opportunities to engage face-to-face that those working in a traditional office space might. Nevertheless, at Perkbox we believe that every team can benefit from employee engagement software.