Employee benefits administration: A guide to benefits management
Employee benefits programmes are one of the most important elements of any workplace. They're fundamental to everything from employee satisfaction, to motivation, to recruitment. Not only do they help take care of employees' fundamental needs, but they can also help them feel valued and engaged in the workplace.
Because of this, it's important that HR teams feel well-informed and confident when it comes to the administration of those employee benefits. Effective benefits administration goes hand-in hand with great employee benefits programmes. That, in turn, leads to happy, healthy workforces!
In order to help you feel informed about the employee benefits administration process, we've put together this guide just for you.
If you're ready to dive into the world of employee benefits administration, read on! We'll be covering:
What it is
Why it's important
The benefits administration process
How to choose the right benefits for your employees
What to look for in an employee benefits software
What is employee benefits administration?
There's a lack of clarity about what employee benefits administration is, but it's not as complicated as it sounds. Basically, if you have (or want to have) any kind of employee benefits programme, it needs to be administered and managed. That can extend to:
Creating an employee benefits programme
Selecting and curating benefits or choosing a benefits package
Updating different elements of an employee benefits programme
Taking care of relevant invoices, processes and documentation
General employee benefits programme management
Informing and educating employees about their benefits
Onboarding new employees into an employee benefits programme
Ensuring employee benefits are compliant with local regulations
Employee benefits administration is assigned to HR departments and is usually the responsibility of a designated benefits administrator.
Many companies choose benefits software like Perkbox to assist them with their benefits administration needs. Managing employee benefits can be a daunting task, so using an all-in-one software ensures that the process goes as smoothly as possible and nothing gets overlooked along the way.
Why is employee benefits management so important?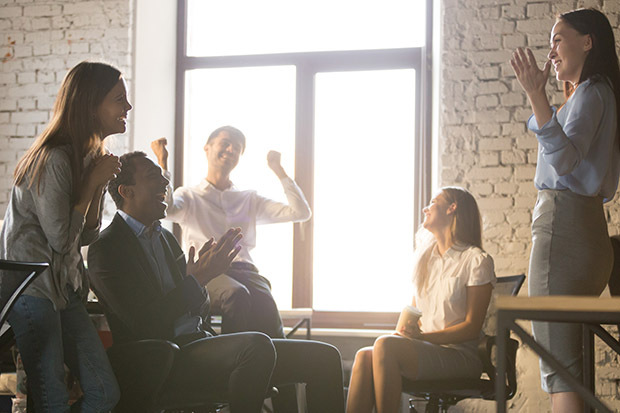 Basically, in order to have a competitive employee benefits programme, it needs to be effective, organised, and well-administered. That's what makes benefits administration so essential.
Having an excellent employee benefits programme is important for a wide variety of reasons, but they all boil down to one central truth.
Competitive employee benefits programmes have an impressive ROI and do wonders for both employee retention and recruitment.
That's right, it's been shown that a variety of employee benefits actually generate returns for their companies. Namely, healthcare benefits, wellbeing benefits, mental health benefits, and financial support benefits have all been shown to generate ROIs of 162 to 1500%. That means that benefits programmes not only improve employee health and wellbeing, but are also great business decisions.
They're a great tool for recruitment as they help your company stand out and attract top talent. They're also effective for employee retention because they create a work culture where employees are valued and cared for.
The benefits administration process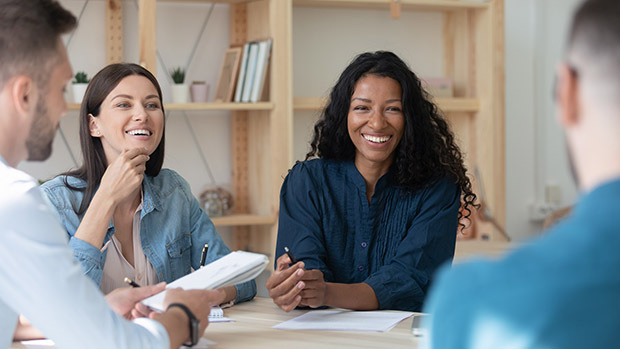 If you're trying your hand at benefits administration for the first time, or simply want some tips that'll make the whole process more seamless, we've got you covered. We've broken down the best way to go about benefits administration step by step below.
1. Create a competitive employee benefits programme
First things first, you'll need to decide on the employee benefits you want to offer. Some of the most common ones include:
Health, dental and vision insurance
Pension plans and/or retirement planning
Life insurance coverage
Disability insurance
Personal time off
Remote work and/or flexible work programmes
Many companies offer additional benefits in order to give back to their workers and make themselves more attractive places to work . These benefits include:
Employee discounts and perks at well-known shops and retailers
Student loan repayment
Professional and skills development
Food and drink benefits
Transportation-related benefits
Home or pet insurance
You'll need to consider which benefits are the most aligned with your company's situation and your employees' needs. At Perkbox, we help create a customised employee benefits programme based on your needs.
2. Educate, engage and enroll employees
It's very difficult to start administering and managing benefits if your employees don't know how they work. That's why an essential step for benefits administrators is educating employees and onboarding them into the company's benefits programme.
Here are just some of the ways to do so:
Make sure that explaining your benefits programme is a key part of your onboarding process for new employees.
If you're introducing a new benefits programme, be sure to send out a clear digital communication with all the details. Better yet, hold a meeting, either digitally or in-person, where you walk everyone through the programme and answer any questions that come up.
Make sure that all employees know who to contact when they have any questions or concerns about their benefits.
Employee benefits programmes are dynamic and can change based on employee needs or company situation. Whenever any changes are made, be sure to keep everyone in the loop.
3. Manage and monitor benefit programme costs
Ideally, benefits should strike a balance between delivering great value to employees while still being cost effective for the HR department and the company at large. As a result, benefits administrators consistently monitor their programme's costs. Here are a couple things to keep in mind when doing so:
Keep cost in mind from the start: A great benefits software will help you put together a package that makes financial sense for your company. For instance, you can often save money when you choose bundled benefits packages. In addition, voluntary benefits can reduce costs and also allow employees to customise their programme.
Monitor your benefits programme's usage: It's important to keep an eye on how your employee benefits programme is being used. That way, you can get rid of benefits that aren't being used and replace them with alternatives that make more sense. Otherwise, you'll be losing money on something that just isn't necessary.
4. Ensure that you remain compliant with local regulations
One of the most important aspects of benefits administration is ensuring that your employee benefits are compliant with local regulations. This is essential as failing to comply with government regulations can result in a lot of complications and even legal action.
Always consult a professional about the legislation around your employee benefits - a good benefits provider should be able to do this for you. Pay attention to tax implications as well, especially when it comes to salary sacrifice benefits.
5. Be open to feedback and future changes
This final step in the benefits administration process is essential! They take a lot of time and effort to put together, but employee benefits programmes should never be set in stone. They can change depending on employee feedback, HR processes or changes in the company.
It's important to establish a procedure to follow if there needs to be any changes, as well as a framework for how changes will be communicated in the future. The best benefits or HR software companies should be happy to help you with any changing needs.
Choosing the right benefits for your employees
In order to ensure that your employee benefits package truly makes a difference in your employees' health and overall wellbeing, be sure to put some thought into choosing the right benefits. Benefits that aren't in line with what employees really want simply won't be as competitive in terms of their effect on employee motivation and satisfaction.
Here are some tips to keep in mind when trying to determine the right benefits for your employees:
Consider employee demographics: Different demographics often prioritise different employee benefits. For instance, millennials have different needs than Gen Xers or Baby Boomers. Some of the most popular employee benefits amongst millennials include those related to flexible work schedules, financial wellbeing, professional development, fitness and mental health.
Survey employees and ask for their feedback: Often, the best way to familiarise yourself with your employees' wants and needs is to simply ask. When putting together a benefits package (or optimising an existing one) send out a survey and offer employees the opportunity to share what they'd like to see in it.
Monitor benefits usage: Once you've implemented a benefits programme, remember to monitor its usage. This can be very informative for employers as it shows which benefits are the most popular (and which benefits fall short).
If you're looking for ideas for your benefits programme, here are a couple options that are well loved by employees and employers alike.
Wellbeing benefits
Wellbeing benefits have become increasingly popular in recent years, and nowadays they're highly in demand at workplaces across the board. In fact, 89% of workers at companies that support wellbeing initiatives are more likely to recommend their company as a good place to work. Needless to say, people are aware that health extends well beyond physical health and includes mental and emotional health as well.
Perkbox offers a comprehensive wellbeing platform that positions this as a key pillar of your company culture and Employee Value Proposition (EVP). Our platform:
Gives employees access to a curated library of wellbeing resources, covering everything from workout videos to guided meditations to sleep stories.
Doesn't have any ads or interruptions.
Can be used anywhere, at any time, on your laptop, smartphone, tablet or smartwatch.
Includes high quality content produced by industry experts like Sanctuary, House of Wellbeing, and My Online Therapy.
Employee perks and rewards
Offering perks and rewards to your employees is a great way to motivate them and express gratitude for all their hard work. Perks also do wonders for employee engagement, recruitment, and retention. Indeed, 60% of people report that benefits and perks are a major factor they consider when deciding whether or not to accept a job offer.
Here's what the Perkbox perks platform offers:
Over 1000 perks and discounts at some of the United Kingdom's biggest brands. They cover everything from food and drink, to tech and electronics, to entertainment.
The ability to treat your employees with a monthly allowance of Flexi points they can spend on a curated selection of Flexi Perks (including everything from coffee to online therapy sessions to music streaming subscriptions).
A centralised hub that allows employees to access all their perks and other benefits in one place.
Employee recognition programmes
Another kind of employee benefit that does wonders for employee engagement and morale is a recognition programme. These give workplaces the ability to recognise and reward their employees in a personalised way.
A little appreciation goes a long way - 63% of employees who are recognised are very unlikely to start looking for another job.
The Perkbox recognition platform does a great job of making employees feel valued. It provides:
The ability to celebrate employees' achievements and milestones together, both work related and personal.
The opportunity to create custom rewards so you can ensure employees will be recognised in a way that's meaningful to them.
A way to increase employee engagement by creating team and company-wide polls.
Choosing a software to manage your employee benefits programme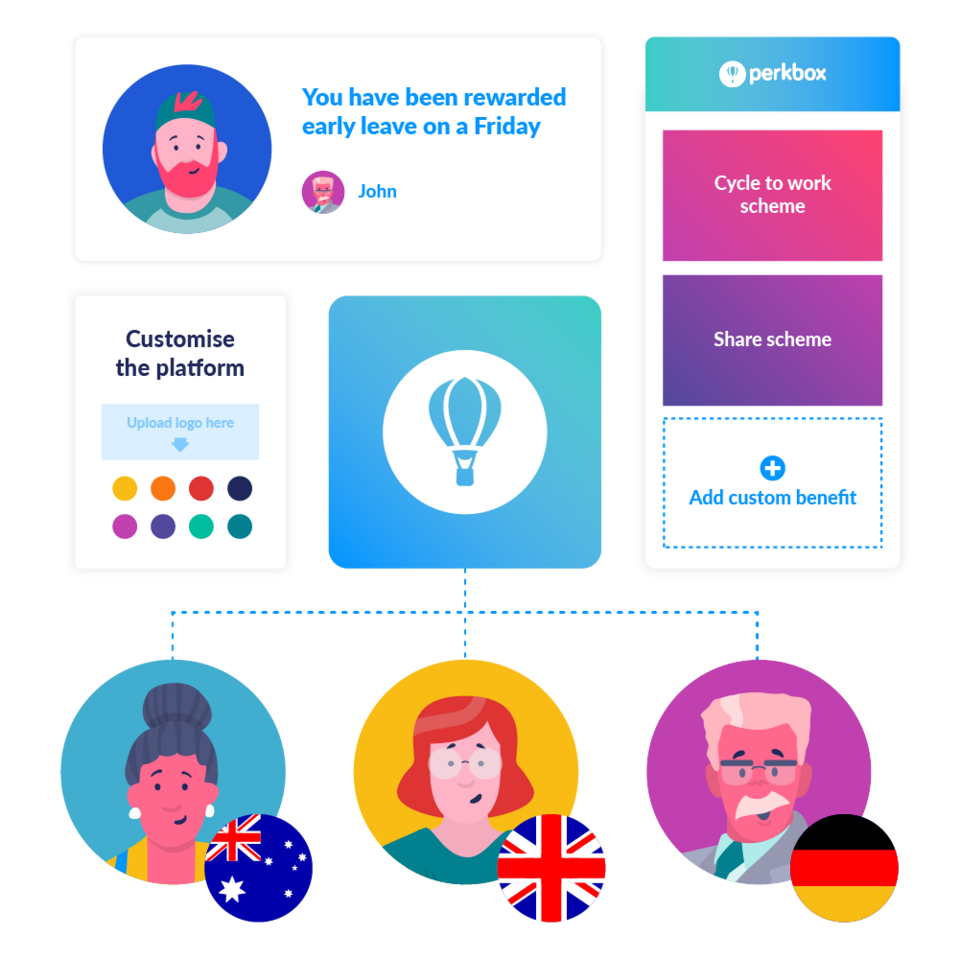 If you're a benefits administrator looking for an HR software to help you manage your employee benefits programme, you're likely to feel bombarded by options. To help you make your decision, consider the key criteria below.
Scalable software
First things first, make sure your software is scalable. You might not need to use all its features now, but who knows what will happen in the future. You'll want to choose a solution that will grow with your business, whether you employ 50 people or 5000 people.
Process automation
Another important feature to look for in an employee benefits administration software is a high degree of automation. Benefits administration is hard work and there are lots of moving pieces to keep track of. Any software that allows for the automation of HR processes will save you a lot of time and energy.
Integrations
Benefits software works best when it can be integrated with other HR software that you already use. This is because you can start using a new software while preserving your existing workflows.
For example, it's easy to integrate Perkbox with a variety of other HRIS (Human Resource Information Systems), including:
Workday
BambooHR
Google Workspace
Microsoft Azure
HiBob
Transparency about benefit offerings
It's important to choose HR software that's transparent about the employee benefits they offer. They should be able to explain what they provide to you clearly and why their software will work to your company's advantage. In order to correctly determine the right benefits software for your needs, you'll need to be well-informed and confident about their offerings.
The benefits you need
Last but not least, the software you choose will need to fulfill your company's specific needs and requirements. Don't make the mistake of choosing software that falls short on something that you consider important. Continue researching different options until you find the perfect solution for your benefits administration!